The best under desk treadmill is a great exercise solution for all kinds of people, especially anyone new to fitness or those who can't fit in a regular workout throughout the day. Also called walk pads, waking treadmills, or just treadmill desks, all of the best under-desk treadmills in our guide below bring you a simple and convenient way to stay active even when you need to work, attend a virtual meeting or catch up on Netflix.
Under-desk treadmills are an excellent idea to prevent the risks of a sedentary lifestyle. Research published in the American Journal of Public Health suggests that sitting down an excessive amount – meaning more than eight hours a day – can increase the risk of premature death or the growth of some chronic diseases by 10% to 20%. The best office chairs and gaming chairs focus on ergonomics and comfort. Still, with one of the best under-desk treadmills, you can get a low-impact, low-intensity workout that will boost blood flow, improve cardiovascular health, and burn calories.
There are several under-desk treadmills to choose from, including slim treadmills that fit under one of the best standing desks at home. But others are more suited for professional environments. Once you've got one, you can set up one of the best cheap fitness trackers to give you a nudge when you need to increase your step count.
We've included several of the best in this guide to help you find the right one. We've already reviewed some of the treadmills in this list, while others are still testing, but we've included them based on user reviews and expert recommendations.
The Best Under Desk Treadmill 2023
LifeSpan Fitness TR1200 DT3 Treadmill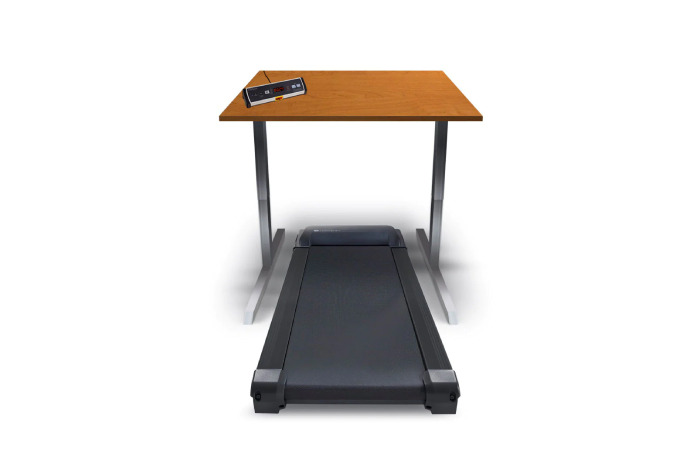 Dimensions: 28.5 x 63 x 7.25 inches | Walk Surface: 20 x 50 inches | Weight: 115 pounds | Speed: 0.4-4.0 mph | Max Load: 350 pounds
Get out of your office chair and add movement to your workday with the LifeSpan TR1200 DT3 under-desk treadmill. The long and wide belt and a low maximum speed enable you to work comfortably while walking. A small, portable console sits discreetly on your desk to display your progress (including steps, time, distance, calories burned, and speed) and features two large buttons to adjust the treadmill settings quickly.
The quiet yet powerful motor pairs with six independent impact-absorbing shocks that dampen footstep noise to ensure you won't disturb colleagues or neighbors as you walk or drum up too much background noise during phone and video calls.
A built-in safety system detects when you're not on the belt and automatically stops the machine in seconds, and a moving logo alerts others that the belt is running. While this under-desk treadmill is somewhat heavy at 115 pounds, two front-mounted transport wheels allow you to reposition it under your desk or tuck it away when it's not in use.
Pros:
Quiet operation reduces unwanted noise
Sturdy platform pairs with a powerful motor
The wide walking surface makes it easy to work and step
Large max load capacity
Cons:
Egofit Pro M1 Treadmill
Dimensions: 38.39 x 21.85 x 6.89 inches | Walk Surface: 34.25 ×16.54 inches | Weight: 48.5 pounds | Speed: 0.6-3.1 mph | Max Load: 220 pounds
The small and lightweight Pro M1 is the latest under-desk treadmill from Egofit. Built on a fixed 5% incline, it helps you burn more calories than you would when walking on a flat surface. An open front end prevents you from kicking a front plate and tripping as you walk.
The integrated display shows your speed, distance, time, calories, and steps taken, and the treadmill operates via remote control. Alternatively, you can pair it with your smartphone via Bluetooth to start and stop the belt, adjust the speed and record your exercise data.
The motor and walking platform create a moderate 70 decibels of noise on max speed, so it's not too loud for phone or Zoom calls. The Pro M1 comes fully assembled and ready to use—take it out of the box and plug it in. Due to its lightweight, compact design, the treadmill is easy to move, and at 48.5 pounds, you can even travel with it if there's room in the trunk. Built-in wheels on the front of the under-desk treadmill make for easy maneuverability around your office or home.
Pros:
A compact footprint saves space
The lightweight design makes it easy to move
Fixed incline adds another level of intensity to your walks
Cons:
Smaller max load
Some users might not want a fixed incline
Exerpeutic 5000 ExerWork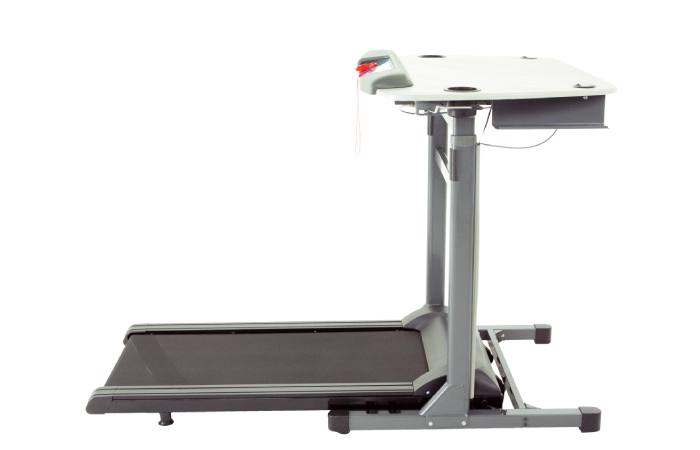 Dimensions: 69 x 46 x 59 inches (including desk) | Walk Surface: 20 x 46 inches | Weight: 192 pounds (including desk) | Speed: 0.6-4.0 mph | Max Load: 325 pounds
Combining a standing desk and a traditional treadmill into a single unit, the Exerpeutic 5000 ExerWork under-desk treadmill maximizes space and simplicity. An easy-to-read backlit LCD shows basic stats such as time elapsed, distance, calories burned, and current speed, and the display also lets you choose from five preset workout programs and three workout goal settings, adding some dynamic training options to an otherwise repetitive routine.
The desktop provides enough room for a keyboard, monitor, mouse, and phone, and the design raises or lowers to accommodate users of different heights, from five feet to six feet, five inches tall. A pair of power strip shelves organize your various cables, while full-length ergonomic wrist supports boost comfort. The two units can use independently, while wheels on the front of the treadmill make for easy transport around your office or home.
Pros:
Adjustable height supports different body shapes
Accommodating max load
Affordable dual-setup solution
Cons:
A heavy design might be difficult to move
No sitting option
InMovement Unsit Treadmill
Dimensions: 39 x 56 x 8.9 inches | Walk Surface: 30 x 40 inches | Weight: 162 pounds | Speed: 0.3-2.0 mph | Max Load: 400 pounds
The Unsit treadmill from InMovement features a broader, more efficient footprint, so you can use the entirety of your desk while walking, and the shorter length doesn't take up a ton of room in your office. A simple desk-mounted controller lets you turn the belt on or off or adjust the speed with one click, while the Unsit smartphone app tracks your walking and standing stats to monitor your progress.
The under-desk treadmill remains smooth and quiet at slow speeds so as not to disturb colleagues or neighbors, nor is it a nuisance on the phone or video calls. The auto stop feature kicks in as soon as you step off for added safety, and while the treadmill is heavy, it features integrated wheels on the front to move it around, much like a wheelbarrow.
Pros:
A compact yet comprehensive footprint promotes usable space
Controls on the desk make it easy to change settings
Integrated levelers and wheels
Cons:
Heavy design can be difficult to maneuver
As expensive as a traditional high-end treadmill
Sunny Health & Fitness Walkstation Slim Treadmill
Dimensions: 50 x 21.5 x 6.5 inches | Walk Surface: 39 x 14 inches | Weight: 55.1 pounds | Speed: 0.5-3.75 mph | Max Load: 220 pounds
At under $300, the Sunny Health & Fitness Walkstation Slim Treadmill is an exceptional value for money. The thin, portable design can be stored away almost anywhere, including hiding beneath a sofa after work. A large, built-in digital monitor at the front of the under-desk treadmill lets you keep track of your time, speed, calories burned, steps, and distance.
The included remote control adjusts the intensity of your walk with speeds up to 3.75 miles per hour. Your build shock absorbers reduce noise and the force transferred to your joints.
The under-desk treadmill will automatically pause when it senses you have stepped off, and if you don't return within 10 minutes, it will switch into power-saving mode. Transportation wheels make for easy portability—tilt the design and roll it to your desired location.
Pros:
Slim profile stores away in tight places
Lightweight at 55 pounds to boost portability
Great value for money
Cons:
A loud motor might disturb other colleagues or neighbors
Goplus 2-in-1 Folding Treadmill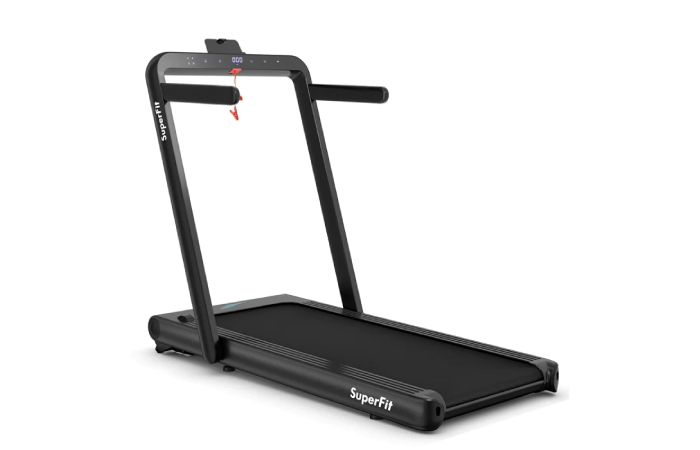 Dimensions: 52 x 27 x 5 inches | Walk Surface: 16 x 40 inches | Weight: 69.5 pounds | Speed: 0.6- 7.5 mph | Max Load: 265 pounds
The Goplus 2-in-1 Folding Treadmill can use as a traditional running treadmill and an under-desk treadmill for walking while you work. The 2.25-horsepower motor is powerful and ultra-quiet so as not to disturb others.
When the riser is folded away, the under-desk treadmill operates at a speed of 0.6 to 2.5 miles per hour, and when the riser is up, it operates at speeds up to 7.5 miles per hour for light running. A phone holder on the riser lets you tune into entertainment while you jog, or you can connect the treadmill's built-in speakers to your phone to play music during your workout. Detachable armrests add an extra support layer, and the unit comes with a remote control for essential operation.
Pros:
Lightweight design for a dual-purpose treadmill
Max load supports various body shapes
Excellent value for budget-minded shoppers
Cons:
Not incredibly sturdy at high running speeds
Are Under Desk Treadmills Worth It?
Under-desk treadmills save you time, space, and money. For those who don't want to invest in a standard treadmill or don't have the freedom to do so, an under-desk treadmill is a great alternative. Some under-desk options are only a fraction of the cost of full-size treadmills, starting at around $300. They can also be stored under beds or in closets for those who live in an apartment or have limited space.
The latest research even links daily physical activity to the imagination—active people develop more ideas, many of which are better than those presented by relatively sedentary individuals. Under-desk treadmills are a great way to get your body moving and your mind sharp. Walking can help improve blood flow to the brain, primarily enhancing cognitive function. So if you've considered investing in an under-desk treadmill before, the science suggests there's never been a better time to do so.
Under-desk treadmills can also save you from running to the gym or setting aside time for workouts. When working from home, you can sit behind a desk for hours. Under-desk treadmills allow you to get your exercise and work done all at the same time. Dr. Michael Greger, author of "How Not to Die," remarks that "under-desk treadmills are a great way to exercise without leaving your desk. They're a convenient and easy way to take extra steps and can help improve your overall health."
What Is The Best Under Desk Treadmill?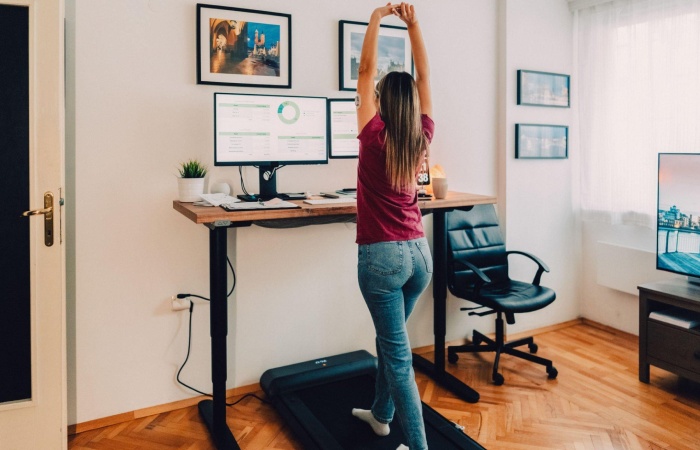 For this article, we selected the LifeSpan TR1200 DT3 as the best under-desk treadmill, but the best depends on what works for you. If you're tight on space, the InMovement Unsit is easy to store and utilizes your under-desk area. If you're searching for an option with a built-in desk, then the Exerpeutic 5000 ExerWork Treadmill would be your best bet. Since everyone has different preferences, the best under-desk treadmill depends on your lifestyle.
The Difference Between Traditional Treadmills And Under-Desk Treadmills
Some might wonder about the difference between an under-desk treadmill and a traditional treadmill. Under-desk versions are lighter and traditionally easier to move and store than full-sized treadmills, perfect for tight spaces. Unlike conventional treadmills, no eye-level display monitors speed, heart rate, and distance.
In addition, under-desk treadmills feature lower max speeds with fewer features, but in return, they're more portable and take up a smaller footprint, making them a solid choice for those working in apartments or home offices. Under-desk treadmills also come in various configurations, some of which feature built-in desks, while other folding options store under a bed when they're not in use to save space. Under-desk treadmills are generally less expensive than standard treadmills, though the more feature-rich options can get pricey.
And also, under-desk treadmills are great for walking and slow jogs, but not much beyond that. Most under-desk treadmills don't have safety handles, while some do; handles are usually there for stability when moving at higher speeds. That said, the average rate of a treadmill is between 0.5 to 12 mph, while options typically max out at 4.0 mph.
Related Article: 5 Tricks to Treadmill Running
Related Searches to Best Under Desk Treadmill
desk walking treadmill
walking desk treadmill
walking treadmill for desk
best treadmill desks
floor treadmill
walking pad treadmill
desk treadmill reviews
treadmill for under desk
standing desk with treadmill
desk tredmil
desk treasmill
office treadmill
desk tread mill
desk tradmill
under the table treadmills
best treadmill desk
desk tredmill
walking desk.
treadmill for desk
walking treadmill desk
standing treadmill desk
treadmill desk
desk treadmil
portable treadmill for under desk
treadmill for office desk
mini treadmill for desk
best treadmill for standing desk
best treadmill for office
treadmill for standing desk
best desk treadmill 2022
wirecutter treadmills
best treadmill for under desk
best walking desk
desk treadmill
walking pad 300 lb capacity
best desk treadmill wirecutter
standing treadmill
treadmill for under standing desk
walking mill
walking treadmill
office walking treadmill
walking station
walking treadmill for office
small desk treadmill
treadmill standing desk
flat treadmill
walking office treadmill
underdesk treadmill
treadmills without handles
best under desk walking treadmill
treadmill without ha
treadmill without handles
best walking treadmill
desk walking pad