Stripes In Your Interior Design – Stripes bring a proper structure to a space. Whenever we add stripes to our room, wall, floor, furniture and wardrobe, sophistication and elegance turn on. Incorporating stripes with other patterns and colours will create a beautiful contrasting combination. There are different types of stripes like peelable wallpaper or striped wallpaper available in the market. Nowadays people are focusing a lot on home decoration. Do you know stripes can make your room bigger? So in this blog, we will discuss it. Let's start the journey!
Narrow Stripes to Make your Room Bigger
Classic stripes were popular during the golden era. From Marilyn Monroe to Elizabeth Taylor every popular artist used to cover up their wardrobe or home with polka dots. It's really fun to add stripes to our personal space. You can implement stripes wallpaper to create a monochrome environment. Stripes draw a lot of attention. Tall stripes can lift eyes upwards which makes the room bigger. It adds extra light to your bedroom. Apply narrow striped wallpaper to your bedroom for taller looks!
Add Colourful Stripes to your Kitchen
If you are thinking to add stripes to your house then why add horizontal colourful tiles in the kitchen?  Glossy tiles with different colours of polka dots will look good. This will bring out a beautiful pattern. Colourful counters with different dots or stripes will look good. You can also try adding narrow stripes. Add stripes always convert a small room into a big room. It looks very good. You can add a rattan shade contrasting with your shiny tiles. You can even use striped cupboards also.
Combine Floral Patterns with Stripes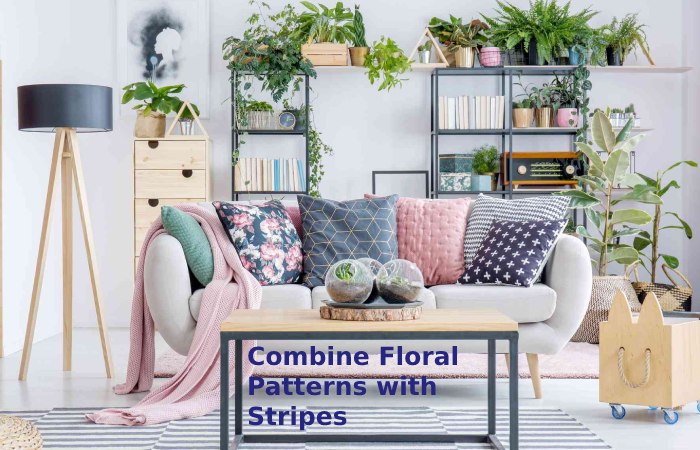 You can combine floral patterns with stripes. Mixing patterns may sound like not easy but if it's done with some tricks then it will look great. You can add floral wallpaper on one wall and striped wallpaper on another side of the wall. It will give a cheek look. You can also add horizontal stripes on the wall. Choose colourful stripes for the kids' playroom. A playful view will add more fun to their life!
Add Stripes on the Floor to Trick the Eyes of your Visitors
Do you know your floor colour can change your whole room decor? Add stripes on the floor to trick the eyes of your visitors. Nowadays there are varieties of floor tiles available on market including striped ones. You can add beautiful striped tiles to enhance the space of your room. Facing difficulty with tiles? Don't worry! Striped rugs are here to play the colour game! It will redirect the eye and reshape the space. You can also add black and white tiles to the floor. Black and white hold boldness within it. It will give the room instant character. But choose colours as per your wallpaper requirement. Don't mismatch it.
Add Stripes to your Furniture
You may think adding stripes to furniture is bold. But actually, it will create a vibrant atmosphere. Yes! Use kilim stripes on your furniture. You can add Indu's stripes, cobalt stripes, red or blue stripes etc. Nowadays you can get a variety of sofa sets on the market. Striped sofa sets are very popular. Or you can add striped cushions for a plain sofa set. Use striped bed covers for your bedrooms. It will look awesome.
Buy Funky Striped Wallpapers
Stripped wallpaper will look gorgeous on plain walls. You can apply striped wall papers in your bedroom. It will enhance the space. Due to light upon stripes, your bedroom will look bigger. There is a spot and arrow wallpaper you can paste onto your wall. You can paste striped wallpaper on the ceiling also. You can use peelable wallpaper on walls also. Vertical and horizontal will your room look bigger. If you have a narrow room then paint it with horizontal stripes. Also, vertical stripes will make the ceiling seem higher.
Conclusion
Stripes are a versatile tool to design your house. It will give some clever visual effects to widen the room space. If you florals with stripes it will enhance the look. Choose as per your mood. Hope this blog will help you to know more about stripes and why you should apply stripes.
Also Read: The Best Tips for Athletes When Exercising at the Gym