Facial Kit For Women: A facial kit is a collection of products (sometimes just one) that are nutritionally intensive and ideally do what a facial would. But in less time and with a lower budget.
10 Best Facial Kits for Women Online
1. Aroma Magic Gold Face Kit
This facial kit includes a 7-step combo kit, which firms, tones, and acts to give a natural and healthy glow to the skin, making it the best facial kit for radiant skin. The products are gentle and non-irritating and suitable for all skin types. The kit contains enough products for five facials.
2. Nature's Essence Magic Fruit Face Kit
Fruit facials are suitable for people who don't like heavy products or chemicals in what they use. It is the one that works to unify the skin by smoothing out wrinkles and fighting the other signs of skin aging.
3. VLCC Gold Radiance Face Kit
VLCC Gold Facial is one of the best facial kits used by hair salons across the country. It is a professional-grade product and uses gold to restore glow to the skin. The kit contains comfrey cleanser and tonic, gold scrub, gold gel, gold cream, gold peel-off mask, and oil-free moisturizing gel.
4. Mini Jovees Fruit Face Value Kit
Another fruit facial to do on our list, this mini facial combo from Jovees is excellent for a quick pickup when time is of the essence. Citrus and blackberry cleanser, honey almond face scrub, papaya, pineapple massage cream, witch hazel, basil toning gel, facial mask with apple and avocado, and a rejuvenating tea tree and witch hazel face cream.
5. VLCC Papaya Fruit Face Kit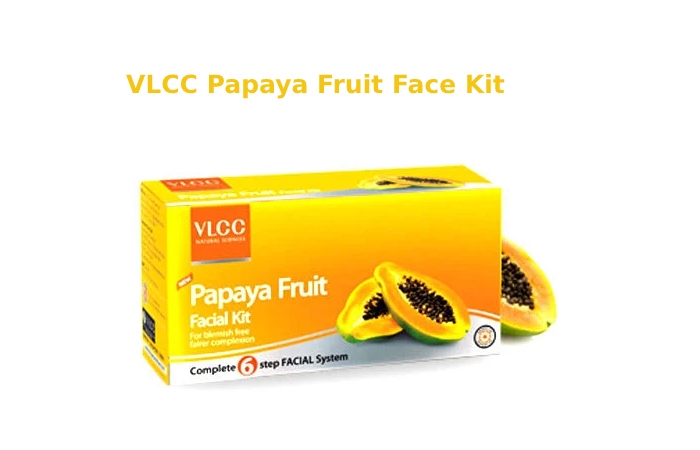 Almost every brand has its line of fruit face kits, and VLCC's Papaya Fruit Face Kit is the best of their offerings. Papaya is known for its benefits to the skin, including removing blemishes and pigmentation, firming the skin, and reducing scars. The mask mimicked these benefits, along with other effects like preventing acne, cooling the skin, and brightening it.
6. Himalayan Pure Skin Neem Face Kit
The three main ingredients in this face kit are neem, fuller's earth, and turmeric, all known for their excellent health and skincare benefits. They work by regulating excess oil secretion, cleansing clogged pores, and preventing the appearance of blackheads and acne.
7. Biotique Party Glow Face Kit for Instant Radiance
Biotique is known for its natural products that don't use chemicals, and it's nice to have something that is used directly and intensely on the skin. One of the best face kits, this kit contains papaya scrub, nail mask, saffron massage gel, Swiss Magic dark spot corrector, and saffron youth spray cream.
8. VLCC Diamond Facial Kit for Women
VLCC has always been a staple for face kits, and even our loyal salon girls swear by it. Besides its fruit and gold, this diamond face kit is also trendy. This kit includes comfrey cleanser and toner, diamond scrub, diamond detox lotion, diamond massage gel, diamond wash mask, and oil-free moisturizer gel.
9. Oriflame Sweden Love Nature Tea Tree Face Kit
This Oriflame kit includes a cleanser, scrub, facial massage cream, and mask. This kit contains products enriched with tea tree extracts to help control excess sebum, balance, and purify the skin, leaving it matte and healthy-looking.
10. Khadi Natural Gold Radiance Facial Kit for Women
This kit from Khadi cleanses your blemishes and marks, restores skin glow and radiance, and finally polishes the skin surface to give you healthier and clearer skin.
The Best Bridal Facials for Your Skin Type
When planning a wedding, of course, you think about the dress, the shoes, and even the hairstyle. But what about the face, which is the most important for a radiant look? Do you know what the best facial treatment for your skin is?
For Dry Skin
Dry skin can be pretty challenging to treat. Peeling, flaking, and dryness require moisturizers to remove dull, lifeless skin. Start with a gentle exfoliant, then coat your facial skin with moisturizers and essential oils. These products will regulate blood flow and seal the moisture in your skin.
For Oily Skin
If your skin looks too bright all day, it means you have oily skin, and gel facials will work best for you. So the next time you go to the salon, ask for a gel-based facial treatment and avoid using creamy or oily facial products.
Also Read: Girl's Skirts – Fashion, At School, Where to Buy and More
For Combination Skin
With an oily T-zone and dry cheeks, combination skin is tough to cleanse. Some people find that gel products make their skin glow, while others think that oily products glow. So you had a better experiment with the products until you found the right one. Most people with combination skin prefer to use the VLCC Diamond Facial.
For Sensitive Skin
If your skin is getting red or itchy, or you have sensitive skin, and natural fruit facial is your best option. Tomato juice, papaya pulp, and banana puree will instantly make you look smooth and radiant.
Conclusion:
If your skin is not favorable to facial compresses, an ice pack will be the best option. Massage ice cubes on your face and remove all the dirt from your skin. It will also close any open pores, reduce redness, and nourish your skin.