If a firm has been around for a while, it is reasonable to assume they manufacture nice products. Since 1833, American Optical has been creating functional and stylish eyewear. Consistency means that the company's sunglasses are still among the best on the market today.
With nearly two centuries in business, it may be hard to believe they are still open! The company flaunts an excellent and memorable legacy which just adds to its brilliance in this market.
In this article, we will explain why people adore these shades and address some of the most common questions about American Optical and their sunglasses.
What Is American Optical?
American Optical, commonly known as AO Eyewear, is an American-based firm that develops and sells eyewear. AO Eyewear has been at the forefront of eyewear innovation, introducing spectacles to the United States for centuries.
The founders of American Optical were responsible for simplifying access to eyewear. They believed that it was something that should be accessible to everyone and not just the wealthy. Since 1833, this company has been responsible for pioneering eyewear designs that countless famous individuals wear.
The company has something in store for everyone with a wide variety of eyewear ranging from classical styles to funky shades! It boasts a large collection of sunglasses and eyewear that cater to every individual's needs.
They offer unwavering standards and excellent customer service to their customers, making them one of the best in the business. Responsible for the invention of several types of spectacles, American Optical is a trustworthy firm that gets our seal of approval and should be your go-to company if you are looking for elegant and dependable eyewear with strong protection from sunlight like AO aviator sunglasses.
Does American Optical Offer Prescription Lenses?
Unfortunately, American Optical does not offer prescription lenses. If you are a customer looking for elegant shades to fit your prescription lenses into, don't worry! You can purchase the eyewear that they believe suits you best and then get prescription lenses fitted through any optical store!
If you plan to do so, we suggest reaching out to your eye care professional. They can guarantee an appropriate fit and suggest the most suitable lenses for you on any frame you have purchased. You'll be able to get your hands on shades that last you a lifetime!
How Do I Care For My AO Eyewear Sunglasses?
American Optical eyewear can last you a very long time if taken care of appropriately. Different brands recommend different ways of caring for spectacles, so the question arises: How do I care for my sunglasses?
Taking care of glasses is essential if you want them to last you a long time. Here's a list of things you should be doing and things to avoid to help make your spectacles last a lifetime.
Tips To Take Care Of Your AO Sunglasses
Daily smudges are an inevitable and inescapable problem, so it is recommended that you wipe them off using a lens cloth.
Ensure that you do not handle your spectacles with an unnecessary force so that the rigidity of the frames is not compromised.
Ensure that your sunglasses are not frequently in contact with chlorinated or saltwater.
Believe it or not, using one hand to put on and take off your glasses can lead to an eventual misalignment. It is recommended that you use both hands when doing so.
If you want to wash your glasses, we recommend that you use tepid water and dish soap.
When cleaning your glasses, you should start with the frames and then move on to the rest. Be gentle and take your time cleaning them to avoid damaging anything and remove all dirt and oils.
When done cleaning, use a microfiber cloth to pat your sunglasses dry.
Things To Avoid With Your AO Sunglasses:
It would be best if you never placed glasses with the lens facing the ground at any time.
When you're not using your sunglasses, keep them gently in their box
Cleaners that contain ingredients such as ammonia should not be used to clean your glasses.
When cleaning your glasses, do not use paper towels or your shirt as this may damage the lenses.
Eyewear care can be a little tedious as it requires gentle and slow care and can be a daily struggle. As unexciting as it may be, we recommend taking your time to make sure that your glasses last you a lifetime.
How Much Do American Optical Sunglasses Cost?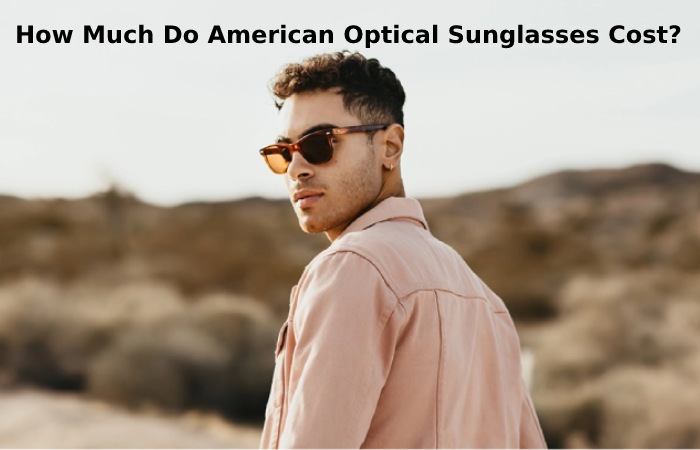 American Optical sunglasses are known for their dependability and elegant look, and items such as those come at a reasonable price. AO Eyewear sunglasses can range from $194 to $250, depending on what you are looking for in your purchase.
Their website has a wide collection of AO sunglasses that you can pick from: from Saratoga sunglasses to the Original Pilot. Each collection is priced differently, but you'll be able to find what you're looking for.
Are They Worth It?
American Optical is not like any other eyewear company, they are one of the oldest and one of the best in the business. They do not just make and sell eyewear, AO Eyewear is known for creating long-lasting and elegant sunglasses that become extensions of your personal style.
Responsible for the invention of several iconic sunglasses, American Optical was trusted by several well-known individuals such as John F. Kennedy and Neil Armstrong. This company stands on an excellent foundation and continues to design products that blend long-lasting elegance, expertly constructed comfort, and lifetime dependability.
Simply put, American Optical Sunglasses cannot replicate its competitors. They have made quite a name for themselves for being one of a kind and providing unwavering excellence. American Optical is where you should be looking if you are looking for a unique aesthetic that lasts a very long time.
Conclusion
Knowing where to purchase reliable and fancy eyewear can be difficult to decide. Still, we can assure you that with American Optical, reliability, and a stylish look is a guarantees.
With sunglasses ranging from $194 to $250, AO Eyewear has a lot to offer and should definitely be on your radar if you are looking to purchase spectacles.
Also Read: Here Are the Various Factors That Determine Facelift Cost