Self-care gifts are perfect for any occasion, but we especially love to give them on Valentine's Day. If you like the idea of giving a self-care present but aren't sure where to start with the shopping process, we've made things easy for you with this gift roundup. Here are 13 Valentine's Day gift ideas for the woman who loves self-care, from skincare products to specialty pillows: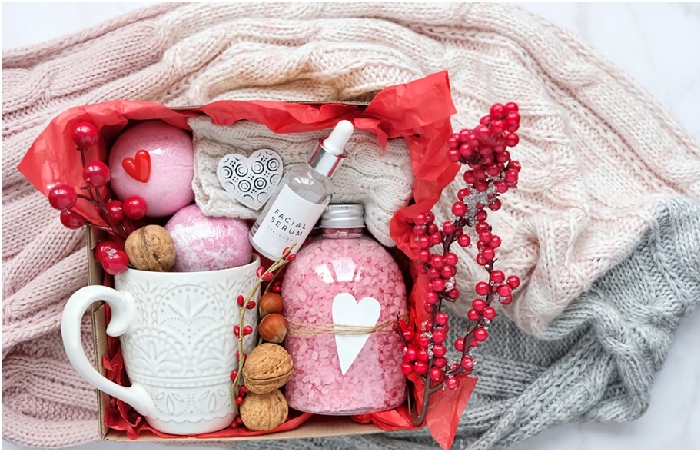 Candles and Aromatherapy Diffusers
When it comes to self-care gifts, you can't go wrong with a scented candle that provides a delicious fragrance and ambient lighting all at once. If you want to upgrade your gift, then consider getting her an aromatherapy diffuser with some of her favorite essential oils. The diffuser will combine the oil with water, and then spray it into the air for a long-lasting scent that she can enjoy all day.
Silk Pillowcase
A long night of sleep is great, but nobody likes to wake up with pillow creases all over their face. Enter the silk pillowcase, which is made of thin, sleek fabric that won't leave creases on the skin. As an added bonus, the slippery surface of the fabric also won't tug on hair, helping her blowout to survive for longer.
Speciality Pillows
Speaking of pillows, you can give the gift of a good night's sleep with a specialty pillow that is specifically designed for your Valentine's preferred sleeping position. For instance, side sleepers need thicker pillows than back and stomach sleepers, while frequent travelers will appreciate a neck pillow that helps them to sleep sitting up in an airplane.
Nice Perfumes
A high-quality perfume is another classic Valentine's Day gift that definitely falls into the self-care category. If you already know your Valentine's favorite perfume, you can definitely get her another bottle. However, we also love to receive perfume gift sets that allow us to try out many new fragrances at once. Some even include a discount for a full-size fragrance, which makes this a gift that keeps on giving!
Skincare Gift Sets
There's no better way to spoil your Valentine than to give her some high-quality skincare products she might not buy herself. Whether it's a new facial cleanser or the best lash serum, she is sure to appreciate a new addition to her collection of skincare products. If she travels a lot, you can also give her trial-size versions of her favorites so that she doesn't have to mess with transferring products to toiletry bottles.
Bath & Body Gift Sets
Who says your face should have all the fun? In addition to skincare products, we love to give bath & body gift sets as Valentine's Day gifts as well. These sets typically feature everything that a woman needs to pamper herself at home: scented body wash, body lotion, bubble bath solution, brushes, scrubs, and more. Combine it with the bath caddy idea below for a truly luxurious self-care gift.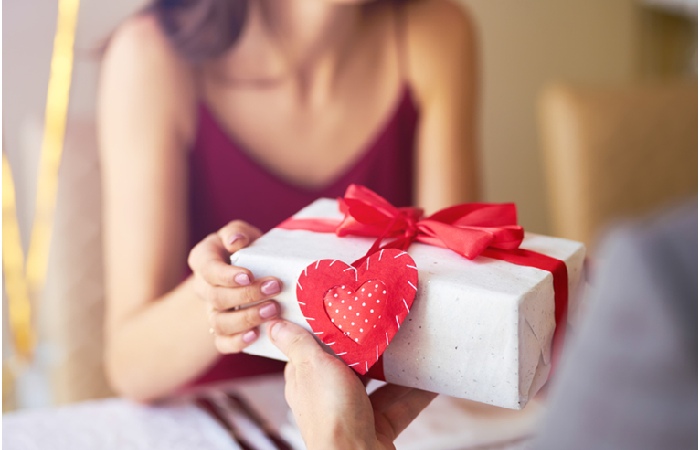 Lip Balm and Hand Cream
The weather in February still tends to be cold and inclement, which means that the delicate skin on the lips and hands deserves extra protection. If you haven't already, definitely give your Valentine some lip balm and hand cream to help keep their skin soft and smooth for the rest of the winter. Bonus points if they come in a set and feature her favorite fragrance!
Heating Pad
Heating pads are perfect for everything from soothing sore muscles to easing period cramps to staying warm on a cold winter night. They come in many different shapes and sizes, from a versatile rectangle to contoured designs specifically meant for your back, hips, and knees. Your Valentine will definitely appreciate this practical yet thoughtful gift!
Weighted Blanket
We love a cozy blanket as much as the next person, but a weighted blanket definitely takes the gift to the next level. Weighted blankets mimic the feeling of a strong hug, soothing stress and promoting better sleep. Veteran weighted blanket users may appreciate a weight upgrade from their current blanket, while newcomers should be given a lighter blanket to help them adjust to the sensation.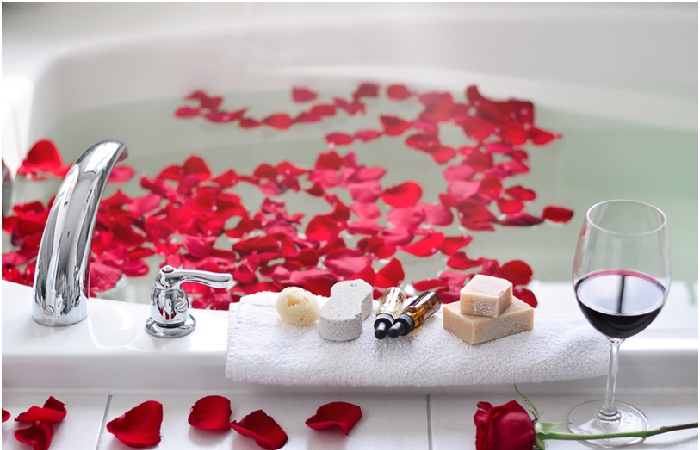 Bath Caddy
Is there any greater act of self-care than taking a long, soothing bath with a nice glass of wine and a good book? If your Valentine is lucky enough to have a bathtub, then by all means give her a bath caddy so she can take full advantage of it. Look for special features, such as extendable arms, a book rest, and a wine glass holder, to really elevate the bath experience.
Robe and Slippers
Everyone needs a robe to cuddle up in at the end of a long day. Keep things cozy with a sherpa or fleece robe, or spice things up with a satin or silk robe. To take your gift to the next level, include some coordinating slippers or even a pajama set. She'll think of you every night that she wears them!
Matching Loungewear Set
Speaking of matching sets, you can't go wrong with some knit loungewear if you want to give her clothes but she already owns enough pajamas to start her own sleepwear store. Loungewear can be styled for a night in at home or a day out running on errands, making it a versatile gift that keeps on giving.
Spa Gift Certificate
When all fails, you can't go wrong with a gift certificate for a spa treatment, massage, or mani-pedi. If you don't already have a legitimate local spa in mind, do the research to find a place nearby that has good reviews. If you're not sure what kind of treatments she would like, then select a spa that offers a wide variety of services so she can pick and choose her favorite ones for a day of self-care.
What are your other favorite self-care Valentine's Day gifts? Let us know in the comments below!