Shrugs For Women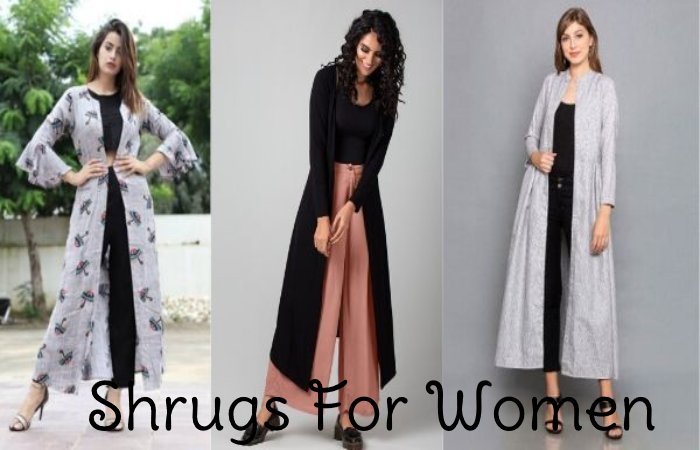 Shrugs for Women: Unlike a girl's jacket or a coat, a shrug, designed to keep you warm, is a garment that covers just the arms and the shoulders and is usually close-fitting. Though you also have shrugs that are longer to reach a girl's back, for a neat look, you need to ensure that the shrug you buy is not too loose.
Long shrugs are especially admired among the ladies as they add a lot of grace to any look. Whether for weddings or dinners, reunions, or our night-outs, our collection of trendy shrugs and boleros is ideal for all occasions. We have what it takes to bring the right amount of drama to any ensemble from a diverse assortment of crochet shrugs to beautiful waterfall designs.
How to Choose Shrugs for Women?
While short-sleeved shrugs for women are great for casual occasions, lace ones are great to pair with formal dresses with an open back or shoulders.
Paired with short Kurtis or sleeveless Kurtis and jeans or leggings, they make for a laid-back style, perfect for a rushed day, complete with a pair of sneakers or flats.
Amazing Types of Shrugs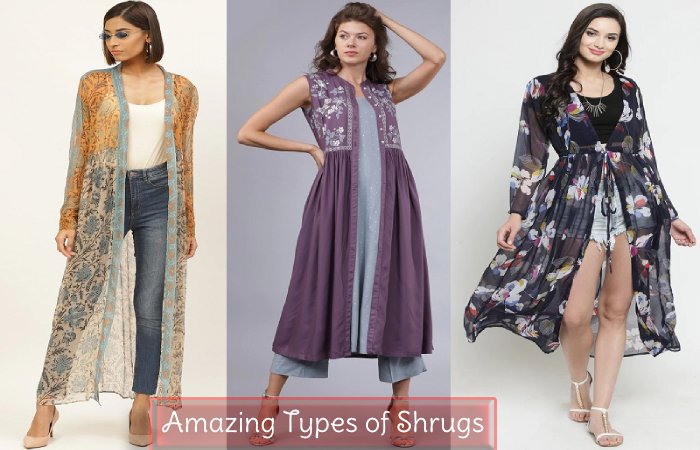 Shrugs are versatile, comfortable, and elegant. They are one of the designer garments and comes in various lengths and styles. The basic thing that we're sure of is that these shrugs are perfect for winters, summers, formal occasions, casual outings, and more.
Longline Drape – They go well with tank tops, spaghetti tops when paired with jeans.
Cropped – A cropped design is a short, cute, and very stylish mini version of a shrug. They often have a length till above the waist or even smaller.
Fringed – It has numerous threads loosely hung from its edges or from all around. Fringed ones are stylish and give you a retro look!
Lacy – Lacy shrugs are those types of shrugs made up of beautiful yarns woven into fabric. It is wear into various styles.
If you bore with solid shrugs, opt for something lighter and barely there, such as a chic lace shrug. Amplify your feminine charm in an ethereal white or cream lace and drape it over a delicate slip-on dress or strappy top.
Floral – Floral shrugs are a summer-perfect piece that you can add to your wardrobe to look fresh and trendy. Among shrug designs, floral shrugs are probably the most vibrant. Floral, leafy patterns are some of the styles that they have.
Shrug With Kurti
These can style off well in various ways. Kurtis with a shrug can be an ideal option for ethnic wear as shrugs come in both long & shorts that can be knitted or velvety. Different types of shrugs make a unique style statement when they match different outfits.
Long White Shrug
With minimalist prints, a white shrug adds a stylish look to your summer outfits. A long white shrug looks beautiful over a spaghetti top and shorts. It will also look great in a sleeveless shift dress.
How to Pick the Right Shrug?
If you want to envelop your shoulders in the evenings while you wear an off-shoulder top or dress. You can wear a short and slight shrug that only covers the shoulders, sparing your arms and waist. While if your motive is to keep up the glamour and still get some cosiness, pick up an off-shoulder shrug that leaves alone.
Also Read: Maxi Dress – How to Wear It? Importance, When to Wear? and More