Tummy Tucks – For both men and women, losing belly fat may be frustratingly complex. If you've gained weight, are pregnant, or are just getting older, you may develop an unsightly pooch on your stomach. Tummy tuck surgery is an alternative for those who have tried everything else and still can't get rid of the excess fat in their midsections, including diet and exercise.
What Is Tummy Tuck?
A tummy tuck, also known as abdominoplasty, is a process that tightens the abdominal muscles and removes surplus fat and skin to give the abdomen a more toned and flat appearance.
It is most often connected with Mommy Makeovers, which assist women in regaining their pre-pregnancy figures after giving birth to children. Tummy tuck may be a great option if you want to lose belly fat.
Patients who have lost a significant amount of weight in a short period may also benefit from this. You can check the tummy tuck (abdominoplasty) before and after images to make sure about the results.
Types Of Tummy Tucks Surgeries
For those who have more loose skin, there are several options for a full or partial stomach tuck. They include the following:
Mini Tummy Tuck:
Those who are in excellent health, are at a healthy weight and have a fair amount of healthy skin tone are ideal candidates for this procedure. As a rule, they struggle with a pouch or moderate loose skin beneath the belly button.
With a smaller incision, this stomach tuck takes less time to heal. For a more flat and toned stomach, it removes precisely the proper amount of excess skin while tightening the remaining tissue.
Full Tummy Tuck:
For a complete stomach tuck to be termed invasive, a bigger incision must be made that extends from hip to hip. Pregnant women and those who have lost a significant amount of weight might benefit from this procedure. Occasionally, liposuction is done to remove extra fat from the belly.
Another name for this procedure is classic tummy tuck since it removes more skin from the abdomen, including stretch marks and unhealthy skin. Although this leaves a bigger scar, most undergarments can readily conceal it.
It is also possible that the belly button may need to be relocated during this procedure, however, this is not usually necessary. It is the most frequent belly tuck procedure, and it provides patients with spectacular results.
Extended Tummy Tuck:
The extended tummy tuck, on the other hand, is intended for patients who have lost a significant amount of weight, usually at least 100 pounds. The incision spans from hip to hip. However, it may also extend to the hips and flanks.
What Are The Benefits Of Tummy Tuck Surgery?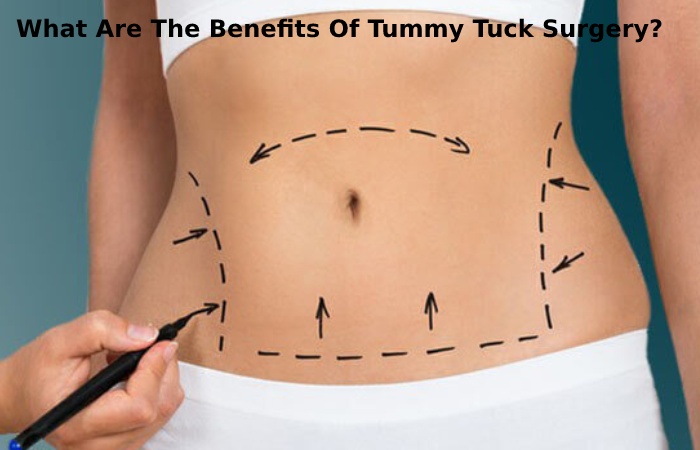 Tummy tuck surgery has several advantages. Even while most patients are concerned with their after appearance, the stomach tuck has many medical advantages as well. A stomach tuck is worth it for these common reasons:
A Trimmer Figure
Abdominoplasty is most often performed for this purpose. A tummy tuck is a popular procedure for those who are unhappy with the size or shape of their stomachs. Many patients have difficulty digesting food, have persistent pockets of stomach fat they want to get rid of, or want to lessen the bloating of their bellies when they wear garments.
Tummy tucks are a common option for these patients. By eliminating extra fat and tissue and strengthening the abdominal wall muscles, abdominoplasty surgery readily tackles all of these difficulties.
Better Posture
It's a little-known truth that weak abdominal muscles may cause poor posture. After pregnancy or a weight reduction, many patients discover that no amount of activity or dietary adjustments will strengthen their abs anymore. When the abdominal muscles are surgically tightened, it might improve posture and decrease discomfort.
Stress Urinary Incontinence Recovery
Pregnant women are more probable than non-pregnant women to have stress urine incontinence, often known as SUI. Spitting up urine or passing gas is one of the most common symptoms of this condition. Although surgery isn't required to treat SUI, many patients believe that their belly tuck helped them recover.
Removal Of Stretch Marks
Is it worth it to get a tummy tuck to remove stretch marks? Most of the time, that's what they say. Pregnancy, weight increase, and fat loss may all cause stretch marks to form on the belly. Aside from tightening and slimming the midsection, an abdominoplasty operation also removes stretch marks from the region.
Tighter Skin
Excess or loose skin is a common problem for many people who have had weight loss or pregnancy. Sometimes, even with a lot of effort, this skin seems hard to tighten. The tummy tuck, which removes excess skin from the abdomen, is a popular choice for many.
Increased Confidence
An increase in confidence alone is enough for most people to justify the cost of a tummy tuck. Patients who have abdominoplasty for many reasons report that they are happier and more self-assured due to the procedure.
Bottom Line:
Most tummy tucks patients look and feel younger and fitter than they did before the procedure. Even if you don't mind having a little extra skin around your tummy, it might be a downer. A tummy tuck may be the ideal operation for you if you wish to remove extra tissue from your stomach.
Make sure to ask your surgeon about what to anticipate from your stomach surgery, both in terms of what it will accomplish and in terms of your recovery. A surgeon will be able to provide you with information that is tailored specifically to your needs and circumstances.