The Cartier Watches That You Will Love Forever
Cartier is a high-end watch brand that is well-respected worldwide. It offers fine watches at par with Rolex and Omega in terms of quality and durability. Most watch collectors and enthusiasts refer to it as the jeweler of kings and the king of jewelers. The reason behind this is that it is the top choice of the members of the royal family and celebrities.
 It started producing timepieces in 1847. Right now, it is still at the forefront of the watchmaking industry because of how lavish its timepieces are. It is still relevant and continuously maintains a great social presence. With its rich heritage, you can surely rely on Cartier for an investment timepiece. In this guide, you will learn how to choose a watch from this brand that you will love forever.
Determine how much you are willing and able to Spend on a Cartier Watch
The first thing you have to determine is the amount of money you are willing and able to spend on Cartier watches. The brand has a wide range of watch models with varying price points. Its timepieces normally come with a price tag of $995 to more than $2 000. If your budget is more than $1000 but not greater than $5 000, then it is best that you find a watch from the Cartier Tank Francaise collection. It contains the most classic watches offered by the company. Additionally, it is the go-to of most watch collectors making its models the best-selling. If you can't find the right watch for you in the said series, you might want to check the Cartier Ballon Bleu collection.
If you are willing to splurge an extremely large amount of money, you may choose from the Tank Americaine line. The piece with a full pave bracelet usually retails at $300 000. This extremely high price tag is due to the exclusivity it provides as well as the distinct style that it possesses.
Know what Type of Movement you wish the Watch to have
Cartier offers watches having either a battery or a mechanical movement. Each of them has distinct characteristics. If you prefer to have a watch with quality and materials that are not hard to maintain, then a battery-powered model is for you. On the other hand, you must purchase a timepiece with a mechanical movement if you care about how it looks and what makes it function. Unlike the battery-powered watch, you have to regularly bring it to a professional watchmaker for servicing. It requires you to exert effort, money, and time to be able to maintain its perfect condition. 
Consider your Style
You have to consider your style before purchasing a watch from Cartier. If you love a timeless watch with an elegant design, then you should purchase it from the Tank collection. It features the most iconic timepieces of the brand, so you will not regret whatever model you purchase. But if you prefer something that can make your look more stylish, then go for a Ballon Bleu watch. The Caliber de Cartier series is where you can find classic timepieces that you can bring on any occasion. It is recommended that you buy from the Cartier Santos line if you love large square statement watches. 
Recommended Cartier Watches to Buy Today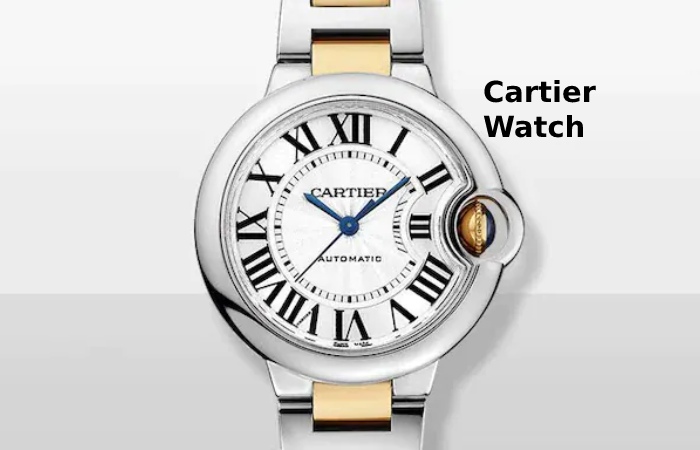 Santos de Cartier WSS A0010
This watch has a red dial with sword hands and Roman numeral indexes. Having these elements makes it extremely classy and chic. It is a masterpiece timepiece designed exclusively for men. The stainless steel case contains a crystal made from scratch-resistant sapphire material. Unfortunately, it has a solid back that prevents you from seeing the automatic Cartier caliber 1847 MC. It is the reason why the watch can function up to a maximum of 42 hours. 
Ballon Bleu de Cartier 166920100
The 166920100 under the Ballon Bleu collection measures 33 mm in diameter and 9.96 mm in height. It is composed of the Cartier Caliber 076 which allows it to tell the time up to 38 hours every after completely winding it. On the inside of the stainless steel case is the pink dial containing sword hands and Roman numeral indexes. Since it has a 30 m water resistance, it will not be affected by minor water entering the case.
Tank Americaine WST A0018
The Tank Americaine WST A0018 has a design that you can't find in any other watch model. It features a rectangular stainless steel case that protects the silver dial and black indexes from external elements. It measures 45.10 mm in diameter and 9.65 mm in height making it a perfect accessory for men. The automatic movement is the reason why it can accurately tell the time even when submerged in water with a depth of 30 m. 
In a Nutshell
If you plan to buy a Cartier watch, you first need to determine your budget and personal style. After that, you have to determine what type of movement will work best for you. Once you finish deciding, you can now visit WatchShopping.com to place your order.  Since it is a prestigious and popular brand, it becomes an attractive target of watch counterfeiters. By purchasing from the said online marketplace, you will save yourself from receiving a fake Cartier watch.