Summers are both a great and risky time for weddings when it comes to the bridal bouquet and decorations. While it's the ideal time for a wedding as far as in-season flower options are concerned, it's also hot enough that those flowers will wilt earlier than they would in other conditions, which doesn't mean good things for a long wedding day. 
There are ways to work around this though, and maybe you can just avoid the daintier flowers this season. On the other hand, you will be saving a huge chunk of money on flowers when your wedding planner is able to get them locally instead of having to import them. That said, what styles are there to choose from, and what even are your options? 
Keep reading to find out about all the flowers you can add to your fresh summer bouquets for your wedding. 
Freesias 
Freesias come in all kinds of colors from classic white to pink, blue, purple, and red. They're great for a wild flower look and pair beautifully with other flowers and some bright greenery. 
The only issue is that these flowers have a very strong scent that can get overwhelming if the bouquet is too large, so either stick with a smaller bouquet or add these flowers to a bouquet with some other ones if you want a large bridal bouquet. 
Peonies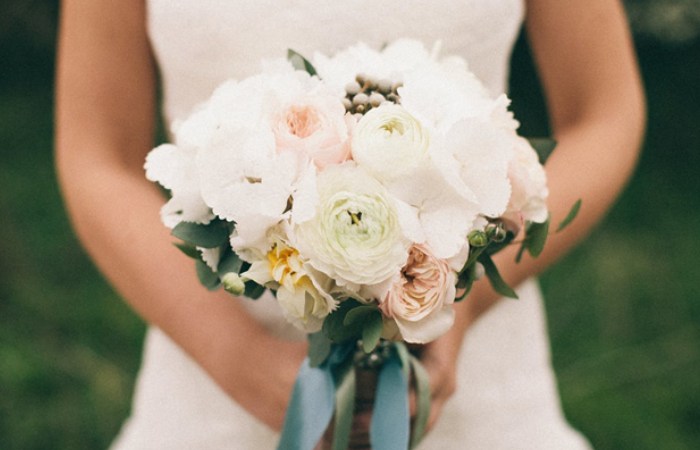 Peonies are technically a spring flower, but they'll probably still be in season around June, though you might not have as much luck if it's a July wedding. We included them in this list because of how beautiful these flowers are. Their petal structure, full form, and circular shape makes them the ideal flowers for large, luch, and brightly coloured wedding bouquet and table centrepieces. 
Tweedias 
While too small to be the main attraction in most regular sized bouquets, tweedias can be the perfect option to add a touch of colour in larger ones – especially white bouquets with greenery. While they come in three colors – white, pink, and light blue, the blue variety is the most famous. 
Hydrangea 
If you want something for your bouquets and decor that can be built up or dressed down, hydrangeas are your jam. These sweet flowers are pretty famous for more traditional wedding bouquets, and can be fashioned into bouquets of any size and style. 
While white and light blue bouquets are most common, these flowers can be found in a whole variety of colors for whatever you have in mind. One thing to keep in mind though is that the price of these flowers might vary depending on what color you want.
Orchids 
Orchids are graceful, elegant, and sleek and would be ideal for formal or black tie weddings. They come in a lot of varieties – some flowers even have petals of multiple colors, which is why these flowers can make a pretty unique and beautiful bouquet for your wedding. 
The best thing about these flowers is how many varieties they have. You can get orchids that are huge, and you can get mini orchids that are quite small, as the name suggests. 
Depending on where you are, the prices can vary. Not every variety will be available in your area and some kinds might need to be shipped in, so choose carefully. 
Cosmos 
Cosmos flowers can be added to your bouquet if you want something simple, fun, and sweet. They come in colours ranging from pink to white to purple and are often paired with other flowers in larger bouquets. 
There's one variety though that's not as sweet, adds a lot of elegance to any bouquet. We're talking about the brownish-red chocolate cosmos that are great for darker bouquets. 
Cornflowers 
Cornflowers would be perfect for garden weddings and cheerful bouquets. Not only are cornflowers super affordable, but they also come in a lot of colours like blue, pink, white, and dark red. 
You can either dress them up in a mixed bouquet or hold a bouquet made of cornflowers and greenery – they're very simple blooms that would be perfect for the whole "wildflower" type of bouquet. 
Roses 
Roses are hardly ever the wrong choice for any floral arrangement or bouquet. They're easily recognized because of both their scent and their popularity, and most varieties are reasonably priced. There's hardly any color out there that you wouldn't find a rose in, from yellow and orange to blue and purple and pink. Then, of course, there are the red and maroon roses that are the star of every show. 
Different colored roses can be used in different types of bouquets – no matter what the effect and the aesthetic is that you're going for, roses will be able to do the job. Of course, a lot of it does depend on the other items in the bouquet. 
Daisies 
Daisies are for any bride out there who wants a garden theme for her wedding. Like cornflowers, daisies are pretty cheerful and come in a lot of colors. White, pink, blue, yellow, orange, and red are just some of the options.
Daisies are usually large flowers too, so you won't need too many of them for your bouquet. 
Creative Bridal Bouquet Options 
Of course, your bouquet doesn't need to be in-season blooms if you don't like your options. If you want, you can try out silk flowers – they're artificial flowers that look like the real thing, and the best part is that they'll last forever. 
You can even go for bouquets that feature things other than flowers, like ferns and lavender. If that's not an option, you can carry a fancy purse. 
For brides who want some floral elements in their wedding look but don't want to carry a bouquet, a flower crown can be a great option. You can also carry dried flowers or succulents!