The reception Bengali bride is so adorable! Today, we bring you some of the best Bengali bridal looks to inspire you to look your best at your next Bengali wedding ceremony.
Bong brides have a distinctive elegance that makes them unique and beautiful. Reception bengali brides are often dressed in traditional sarees, which they ornament with an abundance of gold jewellery, prominent red bindi, traditional mukut, and Alta inlaid hands and feet. Oh, and how can we forget her big alluring eyes lined with bold touches of kajal?
So, without further ado, let's get started.
Trendy Reception Bengali Bridal Look Inspiration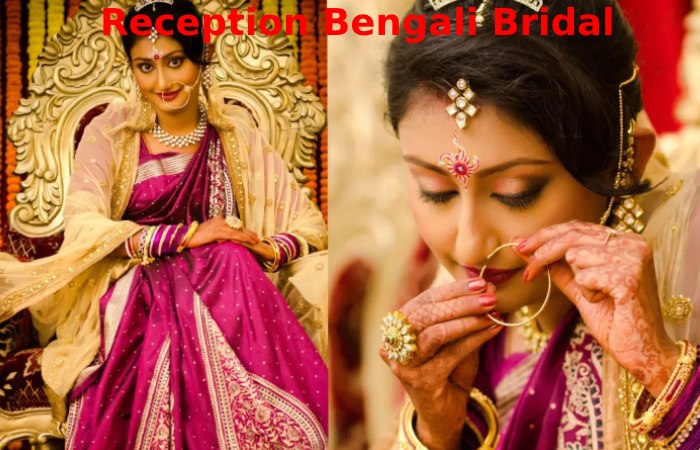 If you don't know what to do and what not to do, our team is here to help! Please browse through our top Bengali bridal reception picks, and I'm sure all your doubts will disappear.
1. She chose this Beautiful Work from Zardozi, Lehenga, and her Photo is Something that caught my Eye at First!
The first thing I came across on my insta feed this morning was an image of this gorgeous bride wearing a heavy zardozi lehenga in a colour palette. The beautiful piece has a cream coloured base and intricate meenakari patterns all over the body in lively shades of blue, yellow, red and green. The way she paired the lehenga with a Bengali Kundan wedding jewellery set is a show-stealer! I feel that brides should try this Bengali wedding look in lehenga.
2. An Austere and Sophisticated Red Lehenga for Natural Beauty!
This beautiful and elegant Bengali bridal reception look in lehenga is sure to catch the eye of all my girls who don't like heavy suits very much. The essential bridal ton of red is tinted bright. And the mirror finish and pallu add just the right amount of sparkle to the outfit. Pair it with minimalist Kundan jewellery and a simple no-makeup look. Trust me, girl, you'll still look like a bomb! Try it and thank me later.
3. A Traditional Banarasi Bou Bhaat Bong look with a Touch of La Couleur!
We all know how great banarasi sarees are for Bengali weddings, right? Our beautiful bride here complements that nostalgia perfectly through this Bengali saree reception look. I can sit back and love how beautiful and stylish it is! The green water saree with Hazar butti works on the body, and the meenakari border gives off royal bang vibes. This vibe is further accentuated by the Bengali bride's simple gold jewellery and simple makeup with which she completed the look.
4. Oh, the Beauty Queen here looks Fantastic in her Fiery Brown and Mustard Look!
The pretty lady here donned a rich and warm combination of brown and mustard. The beautiful burgundy chanderi work blouse perfectly complements the mustard coloured silk saree. The thick zari embroidered border in brown and gold adds a higher level to the overall look of the saree. And can you miss the heavy gold temple jewellery she paired with the saree? From her Jhumkis to her bun wrapped in all mogra gajras, she adds an exquisite finish to her OOTD!
5. This Combination of Shades is another Royal Glory!
This beautiful simple traditional Bengali traditional bengali bridal look reminds me of the beautiful idol of Goddess Lakshmi that my mother has in her pooja room! A dazzling, divine and regal combination of Forest Green and Milano red is ready to radiate a rich romantic vibe into the air.
The combination of reds and greens has been in the top picks of bridal dress trends lately. Although I was somewhat sceptical of the cross, I'm willing to change my mind. I want to try this!
6. Lehengas, Sari Or Lehenga-Sari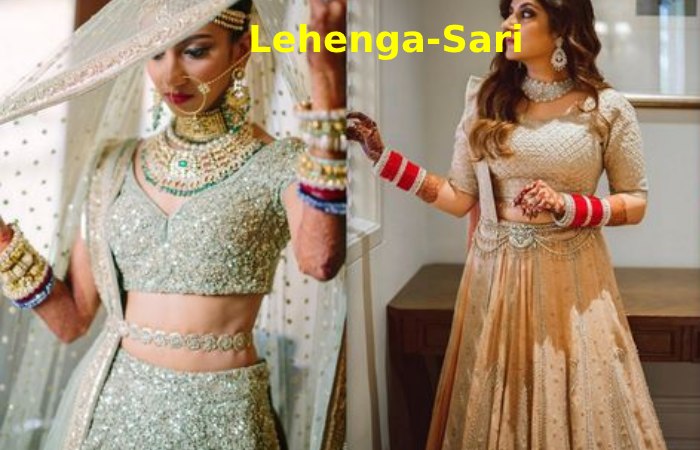 The thought of ​​lehenga sarees and wearing sarees like Lehenga has been trending for quite some time now. However, this beauty has given a new dimension to the traditional Bengali Lal Benaroshi saree. He combined two different benarasi sarees in Venetian red and a similar hazar buti print in two different sizes to make a beautiful ghera like a lehenga.
Traditional Bengali jewellery complements and completes your wedding reception look. The designer's deep V-neck top only adds to the beauty. Although he has a modern style, he has not totally abandoned his ethnicity.
Also search: reception bengali bride, reception look bengali, bengali reception look, modern bengali bride images, bengali look, bengali bridal look, bengali bride, modern bengali wedding saree, reception bengali bride ,traditional bengali reception look
7. This Minimalist Bridal style has a Chic vibe that will get Everyone's Admiration!
This pretty and straightforward bride here is sure to win the hearts of her in-laws with her witty eyes and her refined choice of clothes. She was completely done up in a Rabindrik-inspired style covering the sari. A plain white and red silk saree with an elegant blue embroidered border and meenakari work on the pallu area. Her look is enhanced by the bold eye makeup, nude lips, and intricate and elegant Kolka art on her forehead. Simple Bengali style gold jewellery completes the face of the Bengali wedding reception.
8. This Gorgeous Bengali Wedding Reception Look will Convince us to Wear Red for brides.
Who said that red was the only colour that completed the Bridal Look? Do you still sense the same after seeing our beautiful bride here? The striking combination of yellow and pink will make any bride-to-be want to try the jumpsuit for their wedding reception look. The charming chrome yellow Katan Silk Saree with bright pink trim and bodice looks no less bridal. And the bow decorated with yellow roses is not to be missed.
9. Our Beautiful Bride Mastani leaves her Prince Charming at All Deewana!
WOW, what a beautiful Islamic inspired outfit! Throughout her business, this beauty wears a perfect flawless blend of cream and burgundy. The heavy burgundy zardosi velvet lehenga with gold stitching throughout.
This is a beautiful twice dupatta style lehenga with a red mesh zardosi dupatta and another off-white dupatta for the ghoonghat. However, for jewellery, she chose a heavy Kundan necklace, teardrop earrings, and the magnificent mujra on the surface of her head is not to be ignored.
10. A Recent yet Ethnic Bengali Reception Look for the Bride
This beautiful image of the Bengali bridal look inspires you to wear the modern, bold and elegant Bengali bridal look, ideally with relaxed hair. And also, the easy Tant Lal pere Sada Saree (white saree with red trim) paired with a gorgeous red chanderi blouse and gorgeous layered Bengali jewellery is taking Instagram by storm.
And also, the good-looking makeup with bold blue eyes, nude lips, and Bengali red bindi statement will steal anyone's heart. Besides, who needs a ghoonghat when you have such pretty braids?
Conclusion
These are the 10 best bridal looks that made us fall in love. Which one do you like the most? Let us know in the comments part of our Facebook page! Don't forget to follow us for more inspiring fashion blogs.
Related Articles:
Kids Makeup Kit – About, Right Age, 3 Amazing Makeup Kits, and More
The Ultimate Guide to In-Season Summer Wedding Flowers 
Related Searches to Reception Bengali Bride
[reception bengali bride]
[bengali reception look]
[bengali bride reception look]
[reception look bengali]
[reception look for bengali bride]
[bengali bride modern reception makeup]
[bengali reception look for bride in saree]
[bengali reception look for bride]
[reception look bengali]
[bengali reception saree]
[bengali bride look in reception]
[bengali reception bridal look]
[reception look bengali bride]
[bengali wedding reception looks]
[modern bengali bride images]
[bengali bride]
[modern bengali wedding saree]
[bengali bridal look]
[bengali look]
[traditional bengali bridal look]
[reception bengali bride]
[bengali wedding saree]
[bengali saree look]
[traditional bengali reception look]
[bengali reception look]
[wedding bengali bride]
[bengali bride reception look]
[simple bengali look]
[bengali reception bridal look]
[modern bengali bride look]