Oris Watch Options: Aquis and Big Crown Pro Pilot Collections
A lot of people focus too much on mainstream watch brands like Rolex and Omega that they fail to appreciate other manufacturers like Oris. It offers luxury watches with incredible fit and finishes at prices that will not break the bank. Who would refuse its affordable timepieces if they have almost the same quality as the watches manufactured by Omega and Rolex? For only $1000 to $2000, you can already have a decent Swiss watch.
The founders of Oris, namely Georges Christian and Paul Cattin, established the factory near a river. The reason behind this was that their watch manufacturing process requires hydropower. They derived Oris from the name of the river, which is a way to tell the public that the brand has an outdoor inclination. Right now, it supports various activities that aim to conserve the environment. Keep reading if you want to know some of the watch options it offers today.
Aquis Collection
The Oris Aquis collection contains high-performing watches with a comfortable fit and aesthetically pleasing finish. You can choose from various materials, including solid gold and titanium, and remember that they vary in price. Aside from that, they come in several sizes to ensure that you can find a model that fits your wrist. There is a wide range of options under the Aquis series. They have various complications making them highly functional.
01 400 7767 7754-07 426 64BTEB
Just like any other sports watch, this watch has several colors and a robust appearance. It has a completely black rubber band, while the rotating bezel has a touch of yellow and white. On top of the black dial, you can see silver-tone hands and indexes. These colors complement one another creating an attractive watch. Enclosed in a titanium and ceramic case is the automatic Oris 400 containing 21 jewels. 
 

01774 7743 4155-07 8 24 05 PEB
Avid lovers of Oris watches consider this watch the most classic model in the Aquis collection. It comes with a stainless steel case that will not easily show signs of wear and tear because of the presence of scratch-resistant sapphire crystal. The face watch has a diameter of 45.5mm and a lug width of 24mm, which is the right dimension for the majority of men population. 
If blue is your favorite color, then there is a high chance that you will love this watch. The blue dial is pleasing to the eyes and can easily stand out in a crowd. The manufacturer used stainless steel and scratch-resistant sapphire crystal to create the case. Its solid back will ensure that the automatic movement will be safe from potentially harmful external elements.  
Big Crown Pro Pilot Collection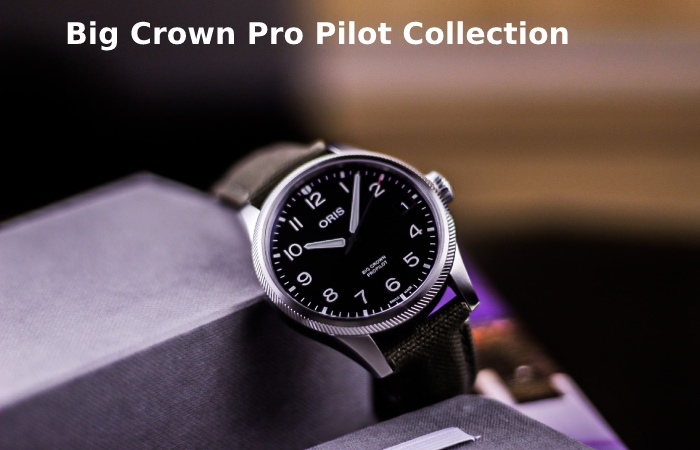 The Big Brown Pro Pilot is a collection of classic watches with extremely large case sizes. Additionally, the models under this series feature a complex mechanical configuration. You can find models with several complications, including GMT, alarm, week-daters, and altimeters. Rest assured that whatever you will purchase will have massive legibility and be robustly built.
Army green is the color that dominates this 01 752 760 4287-SET model. It has a unique look that you can take pride in when wearing it during important events like business meetings. To prevent you from feeling any discomfort when you put it on your wrist, the manufacturer decided to use textile materials. It is powered by an automatic movement that can function for up to 38 hours at a frequency of 28 800.
01 752 7760 465-07 5 22 08LC
If an elegant watch is what you are looking for, then this watch is for you. The blue dial has silver hands and indexes, making it a vibrant aesthetic. There is a small rectangle beside the 3 o'clock position, which displays the day of the month. The manufacturer made it suitable for underwater activities as long as the depth is not greater than 100m.
01 748 7710 4164-07 8 22 19
It is an affordable watch that can meet your standard in terms of quality, precision, and durability. It comes with a sturdy stainless steel strap and case. Featuring luminous hands and indexes makes it a viable option if you often go on adventures with varying light conditions. If you flip the watch to the back, you can see the automatic movement. It allows the watch to function for up to 38 hours every time after winding it. Lastly, it is waterproof, which means that minor water spills can affect the performance of the movement. When using it during underwater activities, you have to make sure that the depth is not greater than 100m.
In Conclusion
With Oris, you can have a watch with incredible features without spending several thousand dollars. The Acquis and Big Crown Pro Pilot models listed above are viable options for you. If you wish to get your hands on one of them, you may order from WatchShopping.com. It is an online marketplace that guarantees authentic luxury watches with the help of professional watchmakers! 
Also Read: How Is Rhinoplasty Performed?