Sets Emsculpt Neo apart from Emsculpt – Want to shape up your body without surgery but don't know where to start? This informative article contrasts and compares two popular methods of body shaping. All the information you need to make an informed treatment decision is right here and the best place to get it is Emsculpt Neo San Diego.
Both methods can effectively reduce excess fat while increasing muscular strength and size. However, they have dissimilar impacts on your fat, muscle, and skin. Additionally, they employ quite different kinds of technologies to help you get in shape and shed extra pounds. Let's start with the big picture and see how these incredible treatments will aid you in your weight reduction and muscle development goals.
How do you define Emsculpt and Emsculpt Neo?
The Food and Drug Administration has given its approval to Emsculpt, a non-invasive therapy that increases muscle mass while decreasing fat. The HIFEM it utilizes to stimulate muscular contractions is quite powerful. As effectively as if you had done 20,000 crunches or squats by hand, your muscles will be toned, strengthened, and tightened. In addition to decreasing fat cells, deep supramaximal contractions reshape the inner structure of the targeted muscles. Neither surgery nor recovery time from medical professionals is required to get this sculpted and toned appearance.
With the added strength of Emsculpt Neo, patients have a better chance of successfully eliminating their fat reserves. This cutting-edge method, debuting in the fall of 2020, employs the same electromagnetic energy as the original Emsculpt gadget. However, it incorporates radiofrequency (RF) radiation into the treatment arsenal. It may use to effectively melt away fat deposits by the application of heat. More potent muscle-building and fat-burning outcomes are possible with this novel combination.
Which Parts of the Body may be Treated with Emsculpt and Emsculpt Neo?
Both methods increase muscle mass and decrease fat in the following five areas:
Get a flatter, firmer, and more defined stomach, and six-pack by working out your abdominal muscles.
Buttocks – easily raise and shape your buttocks without straining yourself.
Build stronger arms by working on your triceps, biceps, and bingo wings.
Slim down your thighs and saddlebags.
Develop stronger, more defined calves.
Locations for Emsculpt Neo Procedures
Difference between Emsculpt and Emsculpt Neo.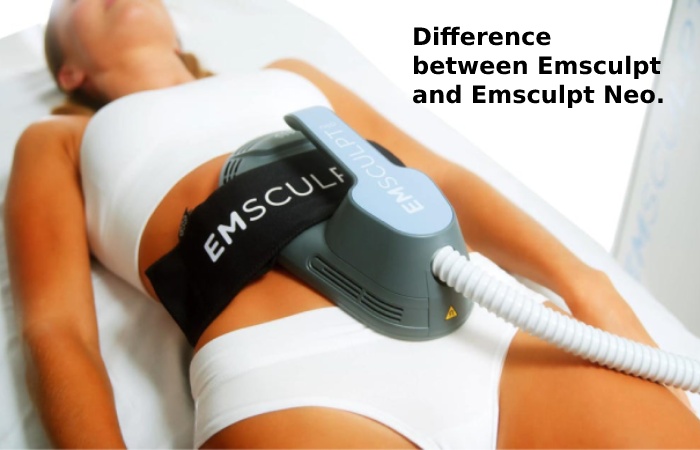 The technology components of Emsculpt Neo are the key differentiating factor between the two.
Emsculpt is the first treatment of its kind, but Emsculpt Neo is the first in the world. Since it combines sophisticated HIFEM energy with radiofrequency to achieve the same goals of muscle toning and fat removal. It uses a proprietary electrode that is unique among body-shaping tools that combine radiofrequency heat radiation with HIFEM.
The increased temperature improves muscle growth by increasing blood flow. The fat layers are also physically broken down by the high temperatures. The body's natural metabolism of the injured fat cells results in long-term fat loss. This method is comparable to fat-freezing in that it eliminates fat in a temperature-controlled manner. But unlike fat-freezing, it does not promote muscle growth.
Because of this, Emsculpt Neo has become somewhat of a pioneer in the field of body contouring. Muscles may contract as many as 24,000 times in only 30 minutes. After 3 months of therapy, it has been shown to significantly increase both fat burning (30%) and muscle development (25%).
Just who is the best Candidate for an Emsculpt Neo Procedure?
Patients seeking the most effective means of body reshaping may consider Emsculpt Neo, now widely recognized as the gold standard for simultaneous fat removal and muscle toning. Because of its superior fat-burning properties, it is a good option for people who have a bit more weight to lose.
Who Benefits Most from an Emsculpt Procedure?
Classic Emsculpt is the best option if you have less of a severe fat reduction need. While Emsculpt Neo delivers more muscle-building and fat-removal advantages to most patients. Patients who have extra fat in pinchable places, such as the love handles or a thin layer of fat covering their six-pack, are ideal candidates for conventional Emsculpt therapy. The original Emsculpt is best for those who already workout frequently but wish to further define and sculpt their bodies.
It will improve your muscular and core strength and aid in the reduction of any stubborn fat deposits that may be hiding your progress in the gym. If your body mass index is less than 30, we recommend that you have the original Emsculpt therapy instead of the more advanced Emsculpt Neo.
Both methods are effective in helping patients lose weight and tone their muscles. In addition, they help women who may have had a separation of the rectus abdominis muscle or other abdominal muscular weakness during pregnancy by restoring the strength of the muscle walls. Both methods are effective in repositioning the abdominal muscles back to a flat posture, with a 19% decrease in muscle separation.
A consultation with one of our skilled doctors is the best way to determine which of our bodies-contouring treatments, Emsculpt or Emsculpt Neo San Diego, are ideal for your individual needs. The consultation is our chance to learn about your body objectives and evaluate your current habits while also determining the best course of action to help you achieve them. Because of this, our doctors can determine if you're a good candidate for any treatment option. It provides a regimen tailored to maximize your recovery.