Small box braids are such a popular hairstyle. This is due to many reasons, some of which are the elegance of the braids and the way they suit everyone. There are so many ways to method them, from ponytails to buns. So, to inspire you, we have found stunning small braid hairstyles. Little box braids are gorgeous and unique styles have been created. Take a look, we have something for everyone, and you'll find color ideas too. We can't decide which is our favorite and we think you'll love them too!
What are Box Braids?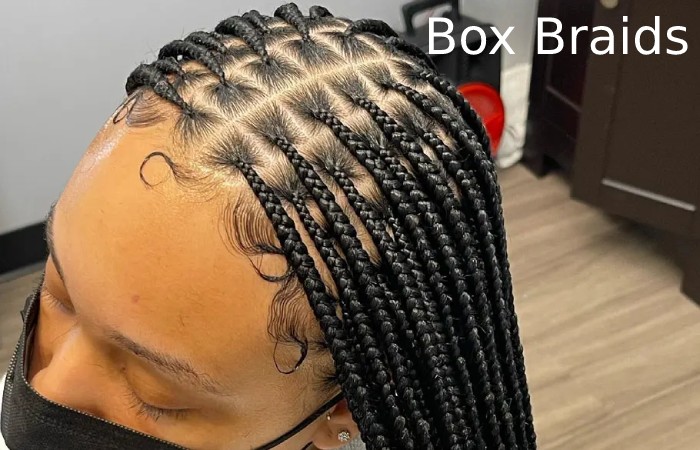 For the uninitiated, box braids are three-strand braids. The history of box braids is quite rich: its origin dates back to 3500 BC. and is an integral part of African and African-American culture. They aren't too different from standard braids but are more defined than knotless ones because the tension applied to them is enough to keep them from slipping. And unlike African braids, box braids are not braided flat against the scalp: the hair is precisely square (or box) sectioned across the scalp and along its entire length so that you can rock your independent tresses to your liking. Many relaxed, natural heads opt for extensions for added length, volume, and protection.
Kanekalon is a synthetic fiber that uses in most braiding hair bundles. This is the most popular option for box braids due to its affordability and ability to withstand extreme heat for sealed ends (if elastic bands are not used). However, loose human hair can also be worn for a more natural, eco-friendly, and long-lasting look. However, this option is more expensive and requires a bit more work because it is natural hair.
Whichever type of hair extension you choose can be reused for future box braids or other braiding styles like goddess braids.
Also Read: Latest and Easy Mehandi Design Ideas for Bride 2022
What is the differentiation between Box Braids and different Types of Braids?
The primary differentiation between box braids and other braids is the fraction and how the box braids are installed. For example, box braids have square features and extensions installed at the braid's base.
Knotless braids, however, can have different types of parts. Extensions are added to this braid to give a flatter, more natural look than box braids.
Cornrows can create many patterns and be used as a base for other looks, such as sewn weaves. They are braided at the scalp, while box braids can hang from the scalp.
Lemonade braids have numerous variations and are always braided to one side. You can get small to large braids and even change the parts of your hair.
Searches Terms
[small box braids]
[small braids]
[neat small box braids]
[small braids hairstyles]
[small box braids long]
[box braids small]
[small individual braids]
[small box braids hairstyles]
[long neat small box braids]
[small braids hairstyle]
[mini box braids]
[small plaits]
[braids for women]
[braids for black women]
[tiny box braids]
[small box braids styles]
[box braids women]
[braids hairstyles]
[small short box braids]
[box braids]
[long box braids]
[box braids hairstyles]
[black women's braids hairstyles]
[small box braids]
[braid hairstyles]
[box braid styles]
[long braids]
[braid styles for women]
[box braids styles]
Also Read: Sanford Health Home Medical Equipment – Full Details
Small Box Braids Hairstyle Ideas
Small box braids provide a fantastic sense of movement and beautiful texture that can be used as a bottom for many updo and updo hairstyles: ponytails, braids over braids, messy low buns, twisted styles, and sleek backs. Although smaller braids take longer to set up, with micro braids, you don't use too much hair per braid, so they aren't heavy. If you ask your stylist not to braid them too tight, you won't have to deal with headaches or extreme breakage.
Being so flattering on black hair, best-braided hairstyles for African American women are not at all out of style or trendy. Beyonce, Eva Marcille, Keri Hilson, Solange, Brandy Norwood, Tae Heckard, Christina Milian, Kandi Burruss, Angela Simmons, and other Eva Marcille are some of the celebrities who love to rock stylish square braids, and we often get inspired by their eyes, Striking looks. With box braids, your hair is forever in order; you can monitor its growth and experiment with eye-catching and effortless hairstyles like the ones below.
1. Small Black Braids
First, we have these neat little braids. The hair is long and braided into beautiful, easy braids for this look. It is an easy-to-wear style and will suit everyone. And also, it is versatile as it will look great for any occasion. It just depends on the outfit you wear with it! Recreate this hairstyle, or you can also try shorter braids.
2. Tiered Bun in Knotless Box Braids
Knotless box braids are among the mainly versatile braided styles you can attempt. Unlock a wide variety of styling options, like this tiered high bun that's both fun and stylish. Buns are single of the easiest and most ordinary ways to style braids but don't fall asleep on them. There are many ways to get original with buns, as this tiered bun shows.
3. Box Braids and Buckles
This next braided hairstyle is simply stunning! Here we have divinity knotless small box braids. The hair characteristic of tiny braids, loose curls, and colored cords have also been used. All these elements create such an amazing and unique style. Try a similar look, or you can use different colored laces.
4. Triangle Braids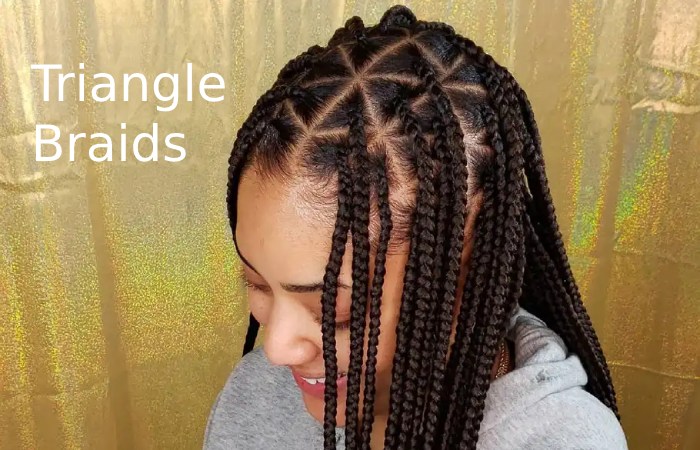 An easy method to insert flair to your braids is to creatriangular pieces rather than rectangular or square "box" pieces that give the box braid hairstyle its name. Sometimes you want something a little fresher or newer, triangle pieces are a great way to achieve that.
5. Black and Blonde Braids
This idea is for you if you want a modern style and want to try new hair colors. Here we have long, and short box braids with blonde color added. The hair starts black and then fades to blonde, giving the style a beautiful ombre effect. You can reconstruct this blonde look or use another shade of blonde. A brighter color like red can also be used.
6. Pink and Black Braided Ponytail
If you like to wear your braids in a ponytail, use some of your braids to create a bracelet next time. This fresh take on the popular ponytail hairstyle will identify you as a hair diva. The pink ends also contrast nicely with the dark braid.
Also Read: Best Patchwork Tattoo Ideas for Men and Women
7. Multitone Box Braid
The following style is so trendy and easy to wear. Here we have beautiful long box braids. The color starts with black, and then different shades of brown and blonde are added. Different hues have been used, creating a natural-looking multi-tone color. We love this way and think it would be excellent for spring and summer.
8. Simple and Stylish Hair Idea
If you want sleek yet simple hair, this is for you. This style features small and long braids. What we love about this style are the trendy box parts because even though the box braids have them, the details here become a modern style feature. It is a gorgeous style, and this look will suit everybody. Recreate this, or you can opt for a shorter braid length.
9. Black and Red Power Cornrows
Hair is art. Hair is expression. Express the unique aspects of your personality by incorporating fantastic shapes and patterns into your next braided hairstyle. Add a splash of your favorite color for extra drama, and you have a winning combination.
10. Half Box Braid
This next hair consideration is one of our favorites! For this look, the beautiful multi-toned braids are styled upside down. Half of the braids are loose, and the other half is in a high bun. It's a cute and stylish look. You can recreate the multi-toned braids or create the half-up style in any hair color. You can also try shorter braids, which means the bun will be smaller. Either way, your hair will look fantastic.
11. Ombre Box Braids Knotless
These knotless ombre braids give us a "sunny vacation" vibe, and we love it. Ombre is always a great option when you want to add some color because the work is already done for you, and all you contain to do is set up your braided hair, and you are good to go. No blending or blending is required.
12. Glamorous Ponytail
Next, we have a glamorous ponytail to show you. We know a ponytail might not look too charming, but this one is! Small braids use, all styled into a tall ponytail. The hair also has several curls at the end. It is a beautiful hairstyle that will keep you fashionable every day. This style creates Spectra hair in color 2.
12. Braids and Copper Beads
A quick and straightforward way to spice up your box braids is to add beaded accessories. Add the vibrant copper of the braids, and you will have an eye-catching hairstyle that will have you enjoying the shine of the spotlight.
Also Read: Beginner's Guide to Using Tapered Square Nails
13. Bold Tricolor Braids
Most hair color ideas will feature an ombre with two colors. Have you ever thought about using more? You can make something like this. Here we have extended box braids with three shades! So the hair starts black, fades into brown, and finally into a warm, shiny hue. We love it because the colors combine wonderfully and create a gradient effect. Try this style, or use all three colors of your choice.
14. Long Braids without Knots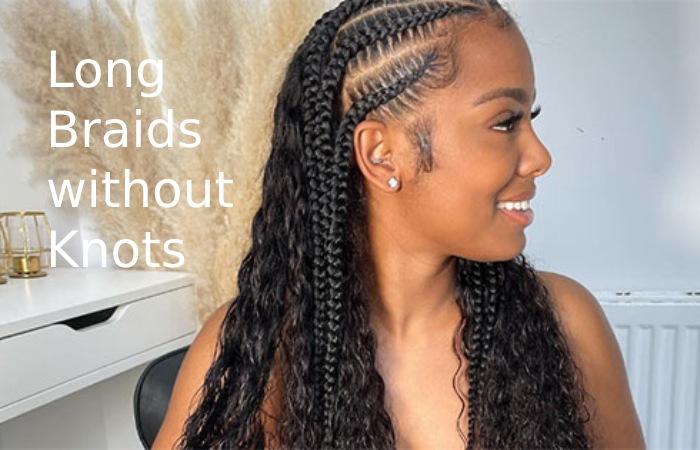 When braiding natural black hair, even the tiniest shades of brown can add style and drama. These long, knotless braids are a statement in themselves, but bits of brown, playing hide and seek, make it even better. Long, knotless braids work well for everyone, even jumbo or comprehensive braids.
15. Symmetrical Black Cornrows in Small Braids
Symmetrical braids are a fantastic alternative to braids that go back and forth. The yellow beads provide a great contrast to the black hair, making it stand out even more.
16. Braided Braids and Buns
What's better than a chic bun? An elegant braided bun! Pull your hair into a pony, part it into sections, and braid it to achieve this look. Then wrap the pony in a bun. And There you go!
17. Small Half Bun Braids
Try the latest hair trend with your twist. The cool and edgy half updo looks great with these little braids as they create a unique texture and shape!
Helpful Resource: Best Indian Wedding Guest Dresses Clearance for Perfect Look
Frequent Questions Answer for Small Box Braids
What are box braids?
Box braids are braids, as the name suggests, with box-shaped sections of hair and are a popular part of African culture.
How much do box braids cost?
Box braids can cost anywhere from $150 to $300 depending on the desired style, length, stylist, and location of your salon.
How extensive does it take to do box braids?
How long it takes depends on your stylist and your chosen style. But, on average, the process takes four to eight hours to complete.
Are box braids bad for hair?
Box braids consider a hairstyle that protects hair from daily wear and tear and other environmental stressors. However, braids that are too tight can lead to hair breakage. Your braids shouldn't pull on your scalp and shouldn't be painful.
What is the best box braid gel?
The best gel for box braids is the water-based one, as it would give them better hold and shine without stiffening them.
Also Read:
Simple Rangoli Designs for Diwali with Floral Pattern
Related Searches to Small Box Braids
[box braids]
[box braids hairstyles]
l[ong box braids]
[box braids hairstyle]
[small box braids]
[small box braids long]
[medium box braids]
[box braid]
[box briads]
[individual braids]
[box braid styles]
[box braids styles]
[hairstyles for box braids]
[single braids]
[small box braids]
[box braids women]
[box braid hairstyles]
[hairstyles to do with box braids]
[long box braids hairstyles]
[box braids for women]
[boxbraids]
[shoulder length box braids]
[small braids]
[box braids small]
[small individual braids]
[small box braids hairstyles]
[mini box braids]
[small braids hairstyles]
[small long box braids]
[tiny box braids]
[small box braids styles]
[styles for small box braids]