Patchwork Tattoo Ideas – If you're looking for a versatile style that gives you the freedom to try multiple designs, consider patchwork tattoos. They're unique to the wearer and can be incredibly meaningful, but they're also great for making a statement and your body art stands out. They can be created large or small and do not need to be carefully placed or perfectly matched. Instead, patchwork tattoos have space between them, which makes each design stand out. This gives you versatility in where to place your images and allows you to combine multiple images. Whether you cover your arms and legs with bold designs or keep a minimalist approach, patchwork tattoos are the perfect choice for you.
What are Patchwork Tattoos?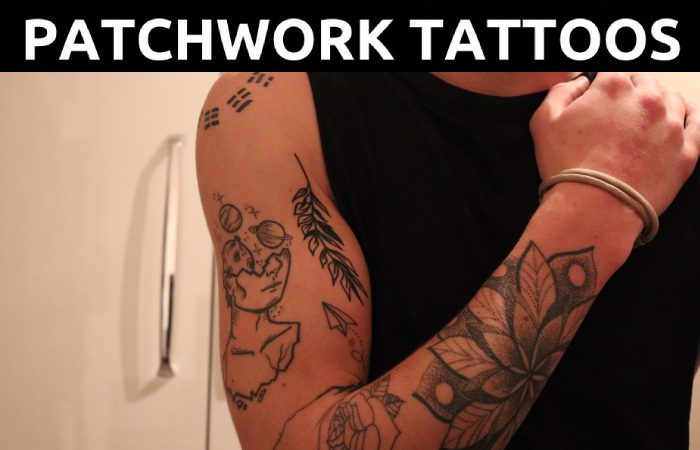 Patchwork tattoos are small to medium-sized (sometimes significant) tattoos arranged and fitted together but not touching to create a "tattoo sleeve." Traditionally, a sleeve tattoo has no open spaces and is more likely to have a cohesive theme. In contrast, patchwork tattoos can be themed or completely random. Below is an example of a patchwork tattoo sleeve and a more traditional tattoo sleeve.
What Tattoo Designs and Styles Are Good for Patchwork Tattoos?
Traditionally, patchwork tattoo sleeves are done in the traditional tattoo style. That said, the beauty of patchwork tattoos is that they can be done in any manner. That's what makes patchwork tattoos so great, you can get multiple tattoos with multiple styles and meanings, and they look amazing on your body.
I've seen tons of colorful black and gray patchwork tattoo sleeves, traditional and illustrative tattoos, and every combination of tattoos you can imagine. They all have one thing in common. They look great and reflect the personality of the person tattooed them.
Also Read: Movie 4 Me CC 2022 – Download Bollywood, Hollywood, Movies in Full HD
Best Patchwork Tattoo Ideas for Men and Women
You can go with any placement your heart desires with patchwork-style tattoos. Here are some examples:
1. Patchwork Sleeve Tattoos
Sleeve tattoos are creative and make a statement. It's a great way to share what you love or is passionate about. The mosaic style allows you to combine different images at different times rather than get the entire cover design. This can be a cheaper approach and gives you more freedom in how and where to add your artwork.
2. Patchwork Half Sleeve Tattoos
Half-sleeve tattoos are a great alternative to a whole sleeve and offer more versatility. You can easily cover your body art with clothing or display it whenever possible. Half sleeves are also more affordable. The patchwork style is excellent for those who want to add different images and techniques, as they don't have to be seamlessly stitched together.
3. Arm Patchwork Tattoos
Arm tattoos are incredibly versatile and give you plenty of room for an extensive or detailed design, but they are also great for something small and simple. The arm considers low to moderate on the tattoo pain chart due to the thickness of the skin, muscle, and fat that provide cushioning. You can straightforwardly cover or show it off, making it an excellent option for patchwork tattoos.
4. Short Sleeve Patchwork Tattoos
As the name implies, a quarter sleeve tattoo covers only part of the arm. It is usually the shoulder and the middle of the elbow. Concentrating the artwork into a smaller section makes it easier to hide. It will also be less painful and more reasonable. The patchwork style is ideal for those who favor their images to stand out rather than blend in.
5. Patchwork Forearm Tattoos
The forearm is another excellent location for body art. Forearm tattoos offer versatility, giving you plenty of room to get creative with the design and making it easy to sport. Visibility is part of the appeal and is an excellent place for meaningful tattoos.
6. Patchwork Finger Tattoos
Finger tattoos are edgy and cool. They are usually small and simple models due to lack of space, but you can combine several of them to create a patchwork effect. Finger tattoos fade faster due to frequency of use and exposure, but they are great for making a statement; if you can bear the pain!
7. Patchwork Leg Tattoos
Leg tattoos are one of the most well-liked placements for patchwork tattoos because there is ample room to get creative. You can combine several individual images with telling a story or choosing something completely different and unique. The leg considers moderate on the pain scale due to the skin, muscle, and fat thickness that provides cushioning.
Also Read: The Best Haldi Dress for Men
8. Patchwork Thigh Tattoos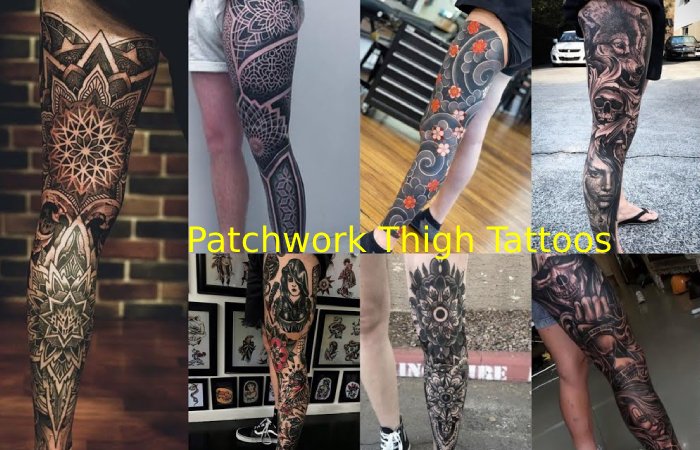 Thigh tattoos are sexy and understated. The thigh can be covered with clothing, making it a more intimate place for body art, which you can wear however you like. It's also large enough to allow for multiple tattoos, making creating a beautiful mosaic effect easily.
9. Patchwork Tattoos on the Back
The patchwork style combines various tattoo designs and has spaces between each one. This differs from other techniques that seamlessly blend your artwork to create a cohesive finish. In its place, patchwork tattoos are completed to stand out, and the back is a great place, giving you the space to do so. Back tattoos provide you with plenty of room to get creative.
10. Patchwork Snake Tattoo
Snake tattoos can represent various things. Some are evil and dangerous creatures, while others see snakes as a powerful symbol of rebirth and transformation. You could get a snake tattoo to remind you how much you have changed or to create a statement about your strength and resilience.
Searches Terms
patchwork tattoos men
patchwork tattoos ideas
tattoo filler ideas
patchwork sleeve
patchwork tattoos
a minimalist patchwork sleeve tattoo
patchwork tattoo sleeve
patchwork tattoo ideas
tattoo arm
patchwork tattoos
patchwork tattoo
sleeve tattoos
patchwork tattoos
patchwork tattoos aesthetic
forearm sleeve tattoo
patchwork tattoos
patchwork sleeve tattoo
arm sleeve tattoo
patch sleeve tattoo
patchwork tattoos
how to design a sleeve tattoo
patchwork sleeve
patch sleeve tattoo
design sleeve tattoo
patchwork sleeve tattoo
patchwork tattoo
traditional tattoo sleeve
patchwork tattoo ideas
patchwork tattoo
sleeve tattoo designs
patchwork sleeve
patchwork tattoo sleeve
american traditional patchwork tattoo
patchwork leg sleeve tattoo
patchwork tattoo meaning
american traditional patchwork tattoos
traditional patchwork sleeve
patchwork tattoo sleeve ideas
11. Patchwork Butterfly Tattoos
Butterfly tattoos are associated with alteration, freedom, and beauty. Even the most straightforward design can make a powerful statement, and this is one tattoo that looks great with different styles. You can get tattooed in black or color, depending on how vivid you want your tattoo to be. Each inking has a unique symbolism for the wearer.
Also Read: Beginner's Guide to Using Tapered Square Nails
12. Patchwork Scorpion Tattoos
Scorpion tattoos are ideal for those who desire a bold and excellent design. The greedy arachnid is associated with danger and revolt and is a tattoo that tough guys and hardened criminals have long favored. It could be a great way to instill fear in others or show off your strength. Scorpion tattoos are also a prompt to protect yourself from those who wish to harm you.
13. Tiger Patchwork Tattoos
Tiger tattoos are beautiful and can create a powerful statement. The animal is a top predator associated with intelligence, freedom, and intelligence. It also has importance in many cultures, counting Chinese folklore, where the tiger is seen as the protector of the dead. Consider the placement of your tiger. If you want it to stand out among your other pieces, choose an eye-catching point like the neck.
 14. Lion Patchwork Tattoos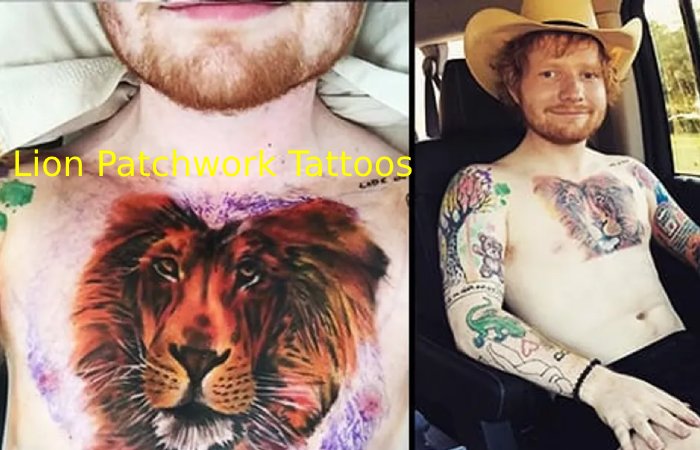 The lion is a powerful and majestic beast associated with royalty, family, and strength. Lions live with pride, and people who value family are often drawn to the animal's designs. Your lion tattoo could also show strength or remind you that you are brave. There are various styles to choose from, and you can stick with a lion tattoo or a nature theme or combine mismatched images.
15. Text Patchwork Tattoos
Text is a great way to convey the exact message you want quickly. While the images may be subject to interpretation and the text to some extent, the meaning is more precise. You can easily add words and quotes to patchwork tattoos; they look great when combined with other images.
16. Bird Patchwork Tattoos
Bird tattoos are diverse and meaningful. There are many birds to choose from, each with slightly dissimilar meanings. Universal, birds are associated with freedom and liberty. This makes a bird tattoo an outstanding choice for somebody who appreciates these qualities or prefers to live a different life than the social norm.
Also Read: Simple Rangoli Designs for Diwali with Floral Pattern
17. Moon Patchwork Tattoos
Moon tattoos are beautiful and symbolic. The moon represents transition, growth, and creativity. You can also choose different phases of the moon, which have diverse symbolism. For example, the full moon represents religion, magic, and the paranormal. As the crescent moon is associated with hope and change, it can be a source of inspiration for someone going through a transitional period in their life.
18. Plant Patchwork Tattoos
There are various plant tattoos with different meanings associated with them. For example, bamboo represents power and longevity, while mistletoe can be luck or peace. The other looks make this an excellent choice for a patchwork tattoo, sticking to a subject without having to mix images.
19. Portrait Patchwork Tattoos
Portrait tattoos can be of anyone. Honor your new baby; a loved one who passed away, or a celebrity who inspired you. You can go for realistic styles with lots of detail or focus on a class like American Traditional with bold outlines but little detail. The mosaic approach gives you versatility with placement and freedom with other images of your choice.
20. Grim Reaper Patchwork Tattoo
Grim Reaper tattoos are linked with life and death. The Grim Reaper is believed to claim your soul after your death, and to some, it represents fear, destruction, and evil. For others, it may be a comment on the importance of living well and seizing every opportunity that comes your way. You can decide what meaning you want to associate with your inking, and the method lends itself well to the patchwork approach.
Frequently Asked Questions About Patchwork Tattoo Ideas
1. What are patchwork tattoos?
Patchwork tattoos are a combination of various tattoos. Instead of blending seamlessly like a sleeve, each design has a gap. This helps everyone stand out and gives your body art a sole and often uneven finish.
2. How to start making patchwork tattoos?
Patchwork tattoos give you versatility with position and freedom with your chosen images. They are made up of various models, which may differ in shape and size and may or may not stick to a theme. You can start small and grow them over time.
3. Can you twist patchwork tattoos into a sleeve?
You can twist your patchwork tattoos into a sleeve by filling in the gaps. The spaces between mosaic tattoos often define them, but the right tattoo artist can blend your body art to make it more seamless and cohesive.
4. How to combine tattoos?
The combination of tattoos is created using background images. This can comprise textures, colors, and other images. A skilled tattoo performer should be clever to match your designs perfectly. It will be easier if you stick to one color scheme or theme.
 Also Read: Stefano Tomadini Model Fitness – Contact, Social Impact
Related Searches to Patchwork Tattoo Ideas
patchwork tattoos
patchwork sleeve
minimalist patchwork sleeve tattoo
patchwork tattoo
patch tattoo sleeve
female patchwork sleeve tattoo
patchwork sleeve tattoo
black patchwork tattoo sleeve
patchwork tattoos girl
patchwork tattoo designs
mens patchwork tattoos
patchwork tattoo ideas
patchwork tattoo sleeve
fill in tattoo ideas
patch sleeve tattoo
tattoo filler ideas
patchwork leg sleeve
fill in tattoo designs
patchwork tattoos aesthetic
patchwork tattoos men
traditional patchwork tattoo sleeve
patch work tattoos
patch sleeve tattoos
traditional patchwork tattoo
patch work tattoo
women's patchwork sleeve tattoo
american traditional patchwork sleeve
neo traditional patchwork tattoo sleeve
patchwork style tattoo
patchwork tattoo meaning
tattoo patchwork
tattoo patchwork sleeve
patchwork tatoos
patchwork tattos
trad patchwork tattoos
traditional patchwork sleeve
small patchwork tattoos
patchwork sleeve tattoos
grunge tattoo ideas
patchwork tattoos ideas
patchwork tattoo style
cool patchwork tattoos
patchwork tattoos men
dark edgy tattoo designs
patchwork tatoos
patchwork leg sleeve
neo traditional patchwork sleeve
patchwork tattoos women
patchwork sleeves
american traditional patchwork tattoo
edgy tattoo ideas
patch work tattoos
patch tattoo sleeve
edgy tattoo designs
patchwork tattoos
patchwork sleeve
minimalist patchwork sleeve tattoo
patchwork arm tattoos
patchwork tattoo ideas
female patchwork sleeve tattoo
patchwork sleeve tattoo
patchwork tattoos girl
black patchwork tattoo sleeve
patchwork tattoo sleeve
patch sleeve tattoos
mens patchwork tattoos
patchwork tattos
patchwork style tattoo
traditional patchwork tattoo sleeve
patch sleeve tattoo
patchwork tattoos aesthetic
traditional patchwork tattoo
patch work tattoo
women's patchwork sleeve tattoo
trad patchwork tattoos
tattoo patchwork
patchwork sleeve tattoos
tattoo patchwork sleeve
american traditional patchwork sleeve
patchwork tattoo style
patchwork leg tattoo
neo traditional patchwork tattoo sleeve
patchwork tattoos ideas
patchwork tattoo men
small patchwork tattoos
patchwork sleeves
patchwork tattoos female
neo traditional patchwork sleeve
patchwork arm tattoos
patchwork tattoos women