Definition of Nutricosmetics
Nutricosmetics designates all food supplements that have an activity related to beauty. The Nutricosmetic food supplement is a hybrid between health and cosmetics since it affects the skin, hair, and nails.
They are available in several forms: capsules, tablets, powders, and sachets.
Purpose of  Nutricosmetics
"The skin is the mirror of our food," and indeed, those who have not seen their complexion tarnish, their nails become brittle. They lose their hair more than usual in moments of fatigue, stress, or perhaps in moments of vitamin or mineral deficiency.
Therefore, Nutricosmetics allow acting at various levels depending on the selected active principles:
For hair and nails – We find in particular products that specifically aim to promote hair growth, strengthening, vitality, or even shine.
For the skin – Detoxification, hydration, strengthening skin elasticity, and fighting wrinkles are the main products offered in this category.
To tan and prepare for the sun – This category is directly related to the skin. Several food supplements are deliberately preparing the skin for sun exposure and, therefore, limit the risk of sunburn, facilitate tanning, or even self-tanning supplements to give the skin a beautiful tan.
Nutricosmetics will not replace topical cosmetics, such as your moisturizer or anti-aging treatment, which is essential to note. Still, they can complement their action by acting directly on the skin.
The ingestion of food supplements and the use of cosmetics in a complementary way aims to optimize the results of your treatment.
How does Nutricosmetics Work?
Its action is directed to the upper layers of the skin, thus limiting its effects. To complement skincare benefits, Nutricosmetics provides the skin, hair, and nails with the active ingredients they need in food supplements. When consumed orally, the active ingredients offer a complementary action to the topical ones.
Essential Components of Nutricosmetics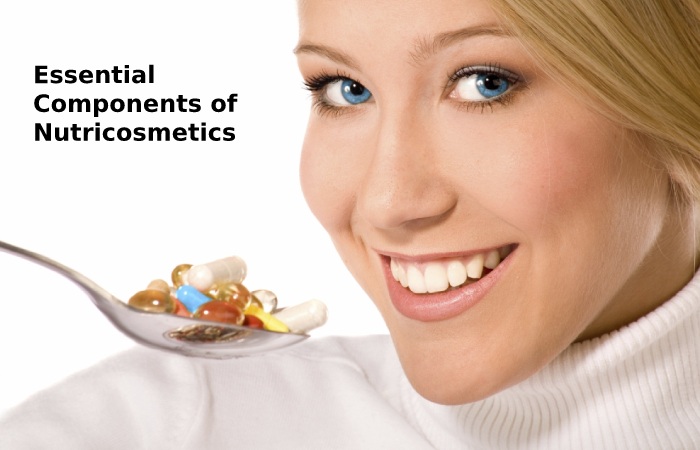 The active principles used in Nutricosmetics vary according to the skin, nails, and hair. Among the most popular active ingredients in cosmetics, we find the following:
Vitamins: Vitamins, especially vitamin D and vitamin C, are known for their 1001 virtues on the skin. While vitamin D helps give the skin a "healthy glow" effect, vitamin C plays an essential role in fighting oxidative stress responsible for premature skin aging.
Keratin: Keratin is a star active in Nutricosmetics. Keratin supplements help prevent hair loss and improve hair shine. This fibrous protein, which also gives nails strength, can be taken orally for deep action.
Collagen – Collagen is one of the most effective active ingredients in restoring skin to its plump appearance. Supplementation with Nutricosmetics with collagen helps to rebalance its concentration in the body, which decreases with age.
Hyaluronic Acid: Like collagen, hyaluronic acid production decreases with age. Consequences: wrinkles deepen, and the skin loses its radiance. Dietary supplements with hyaluronic acid help plump up the face, fill in wrinkles, and keep skin hydrated.
Also Read: Tattoo – Definition, Purpose, 5 Best, Benefits and More
Star Ingredients of Nutricosmetics
Among the nutrients that segment the Nutricosmetics market, we mainly find:
Vitamins for their antioxidant activity or their action on the skin, hair, or nails
Omega 3 with multiple benefits for the health of the skin
Carotenoids with antioxidants and a healthy glow
Collagen peptides that act on the structure of the skin
Hyaluronic Acid is in the composition of many products. Its main asset is hydration.
Finally, plants also have their place in the formulation of Nutricosmetics. These are full of resources for our skin. It is mainly the case for burdock, nettle, and wild pansy traditionally used for skin problems.
Other plants also have the merit of contributing to the maintenance of the skin. Green tea is essential because its antioxidant benefits protect the skin. But aloe vera, known for its moisturizing, anti-inflammatory, and antibacterial properties, is helpful to relieve dry skin and oily skin.