Facelift Cost – A youthful appearance is valued in many parts of the world, particularly in areas like Southern California. Because of this facelifts have become increasingly accessible to patients at manageable costs in Beverly Hills. The first step toward a facelift for most clients is determining whether they can afford it.
So, how much does this life-changing procedure cost?
How Much Does a Facelift Cost?
A facelift is a cosmetic procedure designing to reduce the appearance of wrinkles and to sag tissues around the face and neck. Facelift Beverly Hills is quite common, where looks are highly valued and an unspoken part of maintaining a successful career and a social life.
Most people pay about $7,000 to $15,000 for a complete facelift. However, facelift cost in Beverly Hills is affected by several factors, including.
Extra Sagging Skin
If your aging advance, you may pay more to get a full facelift because more work will need to be done. Patients with excess skin and fat may attract higher fees because it translates directly to longer operating room time.
The Extent of the Facelift
A full facelift costs more than a mini facelift that only targets a small portion of the face. Some people will only want to work on their jawline and neck, while others want to smooth the cheeks and under-eyes only. The more surface area to cover, the higher the surgical fees.
Anesthesia Fees
There are different types of anesthesia you can receive during plastic surgeries. General anesthesia will put you to sleep. When you wake up, it will feel like you took a short nap. Most patients who experience anxiety will prefer general anesthesia.
Also, because a facelift takes a considerable time, most surgeons will use general anesthesia.
This fee accounts for the medications and the anesthesiologist, who will administer them and remain to monitor your vitals throughout your operation.
Medical Tests
Basic blood work and an EKG perform before a facelift. The blood work ordered will depend on your health history and current health. These tests are even more necessary for older patients.
Post-Surgery Garments
Post-surgery garments design to aid in patients' post-operative care and treatment. They are vital to properly healing plastic surgery wounds and achieving the desired outcome. Usually, for a facelift, simple fabric pieces made of elastin and nylon use to achieve the desired form.
Hospital or Surgical Facility Costs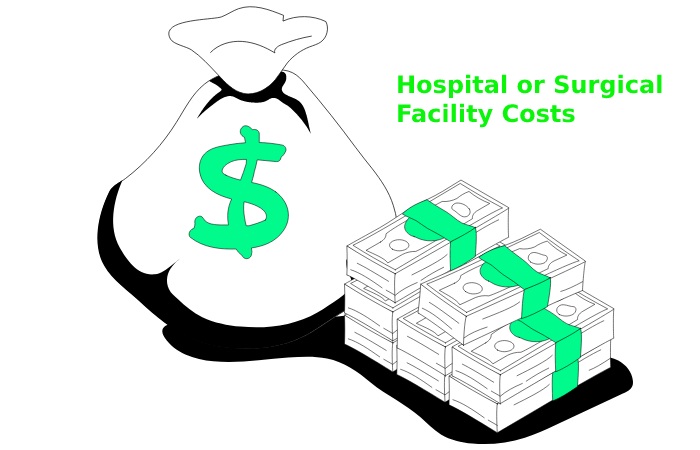 Hospitals will charge for the operating room where the surgery takes place and any tools and equipment used. These charges also include any cleaning and sterilization that must be done before and after the facelift.
Prescriptions For Medications
Because the pain after a facelift is minimal, most doctors will prescribe regular painkillers and a non-steroidal anti-inflammatory drug to aid the inflammation. In some cases, doctors will prescribe opioids for a stronger analgesic effect.
Surgeon's Fee
By law, a surgeon's fee is the amount owed to a surgeon for performing operations on a patient. This fee usually includes one pre-surgical assessment and all post-surgical care follow-ups. The surgeon's fee will vary based on their experience, expertise, and previous success rate. Specialized surgeons like facial plastic surgeons may be a bit more pricey.
Facelift Q&A
Is there a fixed price for a facelift?
No, without consulting your plastic surgeon, it is hard to say how much your facelift will cost before your consultation.
What affects the cost of my facelift?
Several factors affect the final cost of your facelift, including:
Surgeon's fees
Hospital costs
Surgical fees
Anesthesia
Prescription and medication postoperatively
Medical tests
Post-surgery garments
Is it safe to get a facelift at lower prices?
Cheap is expensive in most cases (just in other ways). You've probably seen several botched facelifts that leave patients with irreversible damage. In most cases, clinics and plastic surgeons that charge ridiculously low facelift prices are doing so to compensate for lack of experience and substandard equipment. The safest option is to invest in a reputable and accredited plastic surgeon.
Are medical tests necessary before a facelift?
Yes, medical tests are your lifeline in most cases because they tell the doctor whether your body can handle the stress of a facelift and the anesthesia. The tests also tell the doctor how well your body will heal after the procedure. Pre-op tests are a worthwhile expense; any plastic surgeon worth their salt will not perform a surgical procedure without them.
Is a facelift worth it?
Facelift costs in exchange for taking ten years off your face seem like a fair trade. Most people find facelifts to be life-changing. It pays to look as good as you feel. Patients are also said to be more confident after a facelift leading to career growth and success.
How long does a facelift take to heal?
The healing process is different for each patient. The level of care and attention give to the incision affects the healing speed, so it is important to follow the doctor's post-op care instructions. Most patients should see results within the first six weeks. Complete healing will observe in three to six months.