Elegant Wedding Dress Styles – With an endless number of stunning style options to choose from, finding your perfect wedding dress can take hours of thought, multiple try-ons and more Pinterest pins than you can imagine. From a classic long-sleeved gown to a contemporary satin slip dress and everything in between, the search can feel overwhelming at times.
If you're still figuring out your dream dress style, or have your heart set on a silhouette but haven't yet found the perfect fit, we've curated a list of the most elegant wedding gowns to help inspire you.
Long Sleeves
Some of the most iconic wedding dresses in history have featured long sleeves – think Audrey Hepburn's elegant bishop sleeves, Kate Middleton's sheer lace number, or Kim Kardashian's couture backless design. If you're tying the knot in the cooler months, a long sleeve is a perfect pick. A sheer lace sleeve adds a touch of modern glamour, or opt for a modest, elegant look with a full sleeve, as seen on the Lale Gown from Alamour The Label.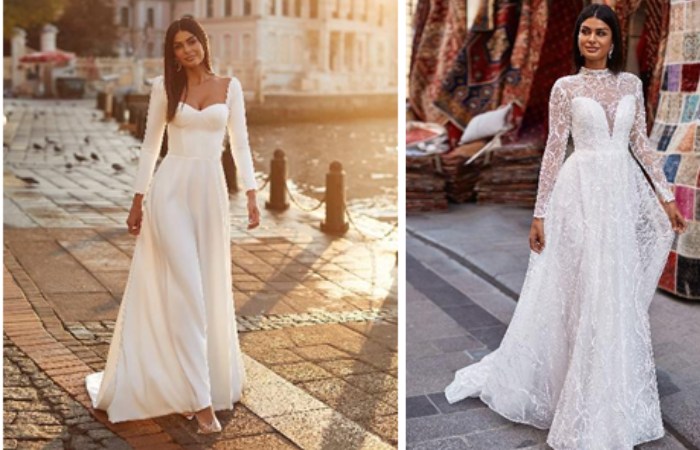 The high neck, long sleeve style of the Caria Gown (right) is equal parts classy and glamorous. The full sleeve of the Lale Gown is perfect for an autumn or winter wedding or tying the knot in a cooler climate.
Bell Sleeves
Bell sleeves bring a bohemian feel to any gown, falling gracefully just below your elbow these sleeves look especially stunning in a delicate beaded or lace fabric. This flattering look in a sheer finish beautifully balances figures with a broader upper half without looking too heavy. Pair this style with a late afternoon ceremony, backed by rolling hills and native flora for the ultimate whimsical aesthetic.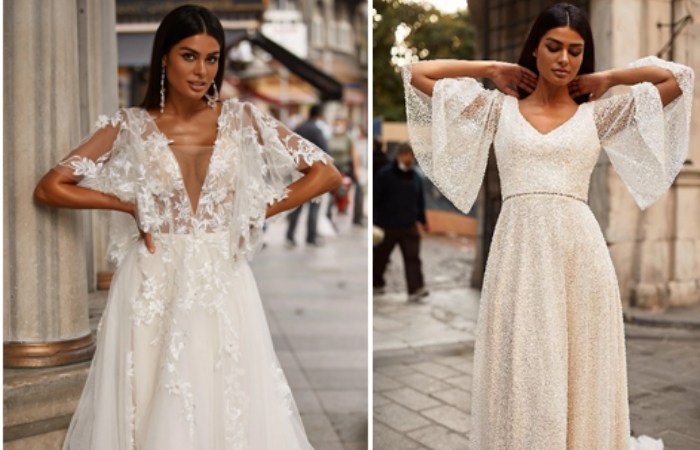 Look for a style with sheer bell sleeves in a lightweight lace or beaded fabric, such as the Roxelana Gown (left) or Kiraz Gown (right).
Asymmetric Silhouette
Asymmetric silhouettes have become increasingly popular among brides, with more and more stunning styles emerging from this contemporary trend. For a timeless take, opt for a one-shoulder fitted bodice and A-line skirt, or experiment with sheer fabrics or a single statement long sleeve.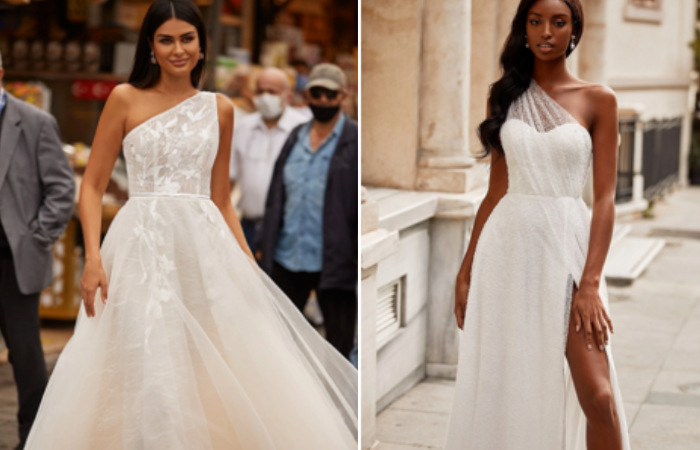 The Berna Gown (left) is a classic take on the elegant asymmetrical silhouette trend. The sheer beaded overlay of the Leslie Gown (right) looks stunning with the sweetheart bodice.
Strapless
A structured, strapless gown oozes romance and sophistication – showing off just the right amount of skin whilst maintaining an overall elegant look. Opt for a gown that has a structured bodice and cinches at your waist for the most flattering finish. Pair with a mermaid skirt for a figure-hugging silhouette or channel your inner princess with an A-line or ball gown skirt.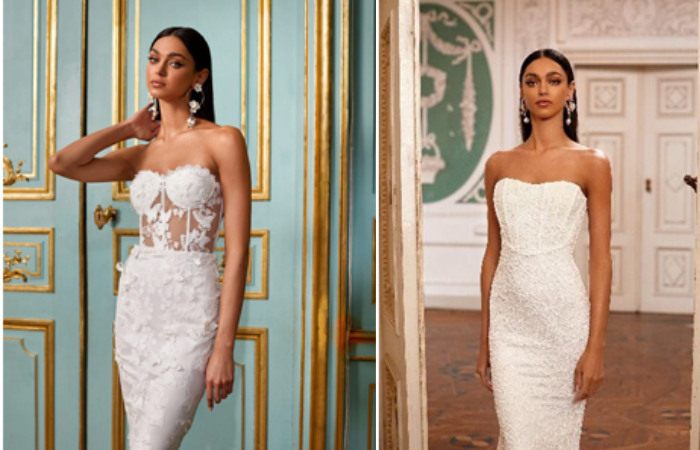 The Thalia Gown (left) features a stunning sheer bodice and 3D appliques for a magical finish. Opt for a classic look with a structured bodice and figure-hugging skirt in luxe lace, as seen on the Cora Gown (right).
Classic Cuts
Simplistic elegance never disappoints, and there is a range of timeless styles that have maintained their popularity through decades of trends and for good reason. Choose a silhouette that flatters your figure in a quality satin or crepe fabric and let your natural beauty shine through. Carry the minimalistic tone through to your accessories with pearl drop earrings, a simple updo, and white pointed heels.
Whether your style is timeless and classic or contemporary and on-trend, your dream gown is out there waiting to be worn down the aisle.