Interest in cosmetic surgery procedures, like Rhinoplasty, has been booming. Men and women have been going under the knife for medical or cosmetic reasons.
Many patients have been vocal and sharing positive reviews about Rhinoplasty surgery in Turkey. But you shouldn't take it lightly; it is still a surgical procedure and carries real risks.
You should be critical when you're researching surgeons and clinics for Rhinoplasty. Your surgeon should be trustworthy and knowledgeable to address any concerns you have.
With that said, we will list down key questions you should ask your surgeon in the first consultation and why these are crucial.
How's The Rhinoplasty Recovery Period?
The rhinoplasty recovery is straightforward. After the surgery, You are monitored for a few hours and then escorted to your hotel by one of our friendly guides.
Expect discomfort, pressure around the nose, and dizziness. There may also be some swelling and bruising in the first 10-12 days after the surgery. But the surgeon's prescribed medication relieves these symptoms.
On the first day, you should also keep your head elevated. To stabilize the septum, the surgeon may also place nasal packs, and you may remove these a few days after surgery.
You may return to work after one week, but you should avoid demanding activities. The following are some activities you should avoid in the early stages of the recovery
Resting your eyeglasses on the nose
Swimming
Brushing your teeth harshly
Pulling clothes over your head
Blowing your nose
Is Rhinoplasty Procedure Painful?
No, you won't experience direct pain during the operation. Your surgeon will administrate local and general anesthesia, and you will have a sedative to keep you relaxed throughout the surgery.
You will be numb. After the surgery, you might experience some discomfort. The prescribed painkillers will elevate the discomfort, and you will be on medication for roughly three days after the surgery.
What Type of Risks Comes with Rhinoplasty?
You might need revision rhinoplasty if the initial result isn't satisfying. Revision rhinoplasty is more complicated because the surgeon has to work around damaged tissue. Few surgeons like to mention it, but it is worth discussing with your surgeon if you need revision surgery.
During the procedure, your body may react to the anesthesia, or you could develop an infection. Also, In some extreme cases, you may face excessive bleeding during the procedure.
These are some complications you might face during the surgery. But if an inexperienced doctor performs the surgery, the risks will be higher, and you could experience deformity, numbness, visible scars, swelling, poor wound healing, and nose collapse.
Do your due diligence to avoid these horrible outcomes.
How To Prepare for Rhinoplasty Procedure?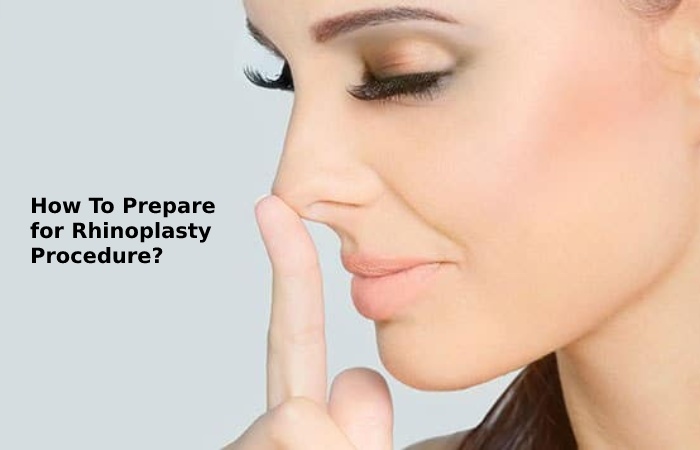 Every patient's preparation will differ depending on their medical condition and physical health. Typically, the surgeon will give you detailed instructions up to the surgery date. Some general rules you can expect:
Avoid smoking two weeks before the procedure and after the surgery. Smoking will slow down your recovery and could affect the outcome.
Avoid blood-thinning medications, including Asprin. Some herbal medicine also has blood-thinning properties, and you should avoid them.
Avoid alcohol; it will intervene with the anesthesia.
The Right Age For Rhinoplasty
The age limit for rhinoplasty surgery depends on the motivation for the surgery. Doctors recommend cosmetic Rhinoplasty for a fully matured facial bone structure patient. But if the procedure is necessary for medical reasons caused by a congenital disability, it is best to have it early.
For boys, cosmetic Rhinoplasty is recommended once they reach the age of 17, and for 15 for girls.
Also, most doctors will discourage having a cosmetic nose job once you're over 60 because your body won't heal as expected. But if your condition needs a functional procedure to correct breathing issues, it is possible to proceed with the procedure.
Who's Eligible for Rhinoplasty?
Your doctor will determine if you're eligible for the procedure after the consultation. You will undergo a medical examination, and the doctor will view your medical history.
If you're healthy and not suffering from any severe medical illness that will impair healing, your doctor will determine you're fit for the procedure.
You must have realistic expectations before and after the procedure. And you shouldn't be under any influence or pressure to do the surgery and pursue it under your conviction.
The Final Results Of Rhinoplasty
Rhinoplasty is a serious surgery, and you will be under general anesthesia and sedation. Unlike dental treatments, you must stay in the hospital for a few days to monitor your condition.
The procedure is permanent and life-changing; you need to adopt a long-term approach for your recovery.
Expect swelling, bruising, and discomfort after the surgery. It will take 3 – 6 months for the swelling to fade completely. And to experience the full results, it will take a year. During this period, you must follow your doctor's instructions to speed up your recovery.
Most international patients consider Turkey for rhinoplasty surgery as one of the most preferred plastic surgery destinations.
Suppose you think about having your operation in Turkey. You will enjoy the service, the affordable cost, and exploring the rich culture. You can reach out to a medical tourism agency like Flymedi to arrange your flight, accommodation, and hospital affairs while focusing on your recovery.